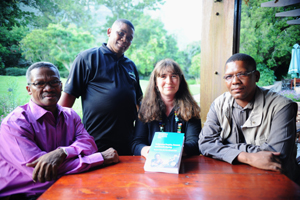 Planting ideas: At the launch were (from left): Mario Mahongo (South African San Council representative), Andries Steenkamp (chair of the South African San Council and the Hoodia Benefit-Sharing Trust), UCT's Dr Rachel Wynberg and Mathambo Ngakaeaja (WIMSA-Working Group for Indigenous Minorities in Southern Africa).
A lively panel discussion on the worldwide marketing of Hoodia and its effects on the San people served to launch a book on the subject, co-edited by Dr Rachel Wynberg of UCT's Environmental Evaluation Unit, and to welcome the 40 delegates to a UCT training course to build African capacity in access and benefit sharing.
The week-long course was a first for Africa, and co-ordinated by Dr Rachel Wynberg, in collaboration with the ABS Capacity Development Initiative for Africa. Plans are now afoot to roll it out elsewhere in Africa.
The discussion, facilitated by former chairperson of the Human Rights Commission Jody Kollapen, included panellists representing the San people, farmers, government, industry and academia. Topics raised included how the San, arguably the most marginalised people in Africa, can be made partners in the marketing of Hoodia, rather than merely knowledge holders, and the reasons for the recent decline in the worldwide Hoodia market, and how this could be addressed.
Panellists agreed that the market decline was at least partially caused by imitation 'fly-by-night' manufacturers, who produced ineffective products containing little or no Hoodia.
Robby Gass of the Southern African Hoodia Growers Association noted that the San are the face of authentic Southern African Hoodia, and should be promoting it worldwide. Lacticia Tshitwamulomoni, assistant director of the National Department of Water Affairs and Environment, noted that although her department is in a position to enforce new, progressive legislation protecting the San in the marketing of Hoodia, it doesn't have the capacity at present.
"The issue is relatively new, and we're still trying to slot it in," she said.
The book, Indigenous Peoples, Consent and Benefit-Sharing: Lessons from the San-Hoodia case, is the first in-depth account of Hoodia bioprospecting and use of traditional San knowledge in the global context of indigenous peoples' rights. Wynberg's co-editors were Professor Doris Schroeder, a leading European expert on ethics and benefit sharing, and Roger Chennells, the lawyer who negotiated the benefit-sharing deal on behalf of the San.
---
This work is licensed under a Creative Commons Attribution-NoDerivatives 4.0 International License.
Please view the republishing articles page for more information.
---