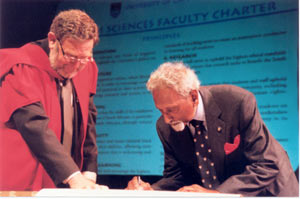 Setting things right: In 2002, Prof Ralph Lawrence (right) returned to UCT to sign the Faculty of Health Sciences' Charter, which committed it to reconciliation. With Lawrence is Prof Ralph Kirsch.
Professor Ralph Lawrence, who in 1945 was one of the first three black students to graduate with a medical degree from UCT, has died.
Lawrence, born in Durban in 1920, died on 17 December 2009 after a long career in forensic medicine. As one of the first black doctors to graduate from UCT, he worked actively for an end to racism in medicine, even after he left South Africa in 1948 to pursue postgraduate studies, driven overseas by the racism of the new apartheid government.
He matriculated in 1938 and was accepted for medical studies in the UK in 1939, but World War II broke out and scuppered his plans. Instead, he worked as a bricklayer's assistant and in an advertising agency before applying and being accepted to study medicine at UCT in 1940.
Life in Cape Town and UCT was full of trials. He wasn't allowed to stay in a university residence, so moved into a District Six hotel where "conditions were basic and the food was poor". When he pointed this out, he was asked to leave and had to find accommodation with an Indian family.
At UCT, he wasn't even sure if he would be allowed to complete his clinical studies after the initial pre-clinical programme. After Lawrence and others petitioned UCT, they were allowed to register for the clinical years, but on condition that they not enter 'European' wards or be present at any examination or clinic where white patients were treated.
On 13 May 1944, Lawrence was suspended from classes pending a disciplinary hearing for being present at clinics where white patients were present, in violation of the condition of his registration. He was acquitted on a technicality as he had not been formally notified of the race-based conditions of his registration.
In September 1944, Lawrence became the first black student to serve on UCT's Students' Representative Council (SRC). Several attempts were made to remove him from the SRC, however, and members even walked out of the annual SRC dinner because of his presence. He was also barred from the official SRC photograph in case the Chancellor, Jan Smuts, was offended by the presence of a black student.
In a speech made at the end of his term of office on the SRC, Lawrence called on students to make a firm stand for democracy and to fight for a better South Africa.
In 1945, Lawrence, Cassim Saib and Maramoothoo Samy-Padiachy became the first black students to graduate with medical degrees from UCT.
In September 1948, Lawrence left South Africa to further his studies in the UK. There he married Bronwen Arthur in 1950, and the couple had three sons. Lawrence served as the principal forensic physician to the Derbyshire Constabulary from 1953 to 1998. As a member of the British Panel of Expert Witnesses he continued to conduct forensic examinations well into his 80s, remaining intellectually active virtually right until his death. In addition, he served on the council of the British Medical Association for many years.
Lawrence was a Foundation Fellow of the Faculty of Forensic & Legal Medicine with the Royal College of Physicians, president of the Association of Police Surgeons from 1993 to 1994, and an internationally renowned ambassador and champion of clinical forensic medicine. He was also made an Officer of the British Empire.
His 2006 autobiography, A Fire in His Hand, included sharp insights to the history of social medicine in the UK.
In May 2002, Lawrence returned to UCT to sign a Faculty Charter highlighting non-discrimination and equality as part of the Faculty of Health Sciences' commitment to reconciliation. He was appointed as an honorary visiting professor to the faculty in 2003.
"The life and story of Professor Ralph Lawrence - and that of many other students like him - is a chronicle of how UCT shamefully failed so many of our students," said vice-chancellor, Dr Max Price.
"But as South Africans, we can take pride in the achievements of Professor Lawrence and the many black graduates who persevered and excelled under these uncharitable conditions. Their legacy is one of courage and determination in the face of adversity."
This obituary is extracted from a version penned by UCT's Associate Professor Gonda Perez and Professor Leslie London, and Lawrence's son Hugh, and includes notes from other sources.
---
This work is licensed under a Creative Commons Attribution-NoDerivatives 4.0 International License.
Please view the republishing articles page for more information.
---