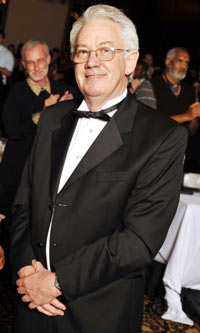 Vox pop: Professor John Simpson director of UCT's Unilever Institute of Strategic Marketing, which conducted the recent survey.
Despite economic indicators showing the recession has technically ended, many South Africans are not expecting the effects of the recession to lessen for quite some time.
This was the finding of a recent poll conducted by UCT's Unilever Institute of Strategic Marketing and Bateleur Khanya Research Solutions, which serves as a barometer of how South Africans are experiencing the downturn. The majority of those polled claim to be even more cautious about spending than they were nine months ago.
Director of the Unilever Institute, Professor John Simpson, says the survey provides a comparison of perceptions about the downturn, and gives marketers useful data on self-reported consumer behaviour.
While 70% of respondents believe the downturn will last for some time, there are even greater numbers of South Africans who report feeling the effects of the recession since the previous survey, which was conducted in April 2009.
One of the most striking differences the researchers found was the availability of credit: 60% of respondents reported difficulty in accessing credit, compared to 49% in the earlier poll. Forty-seven percent reported that they are finding it more difficult to save, compared to 37%, and 72% say that they are cautious about spending, compared to 66% in the April survey. Respondents claimed they are spending less on themselves (59% vs 51%) and are more likely to postpone 'big ticket' items, like buying a car.
Simpson says the survey demonstrates that an appreciably higher number of South Africans are feeling the financial pinch than earlier in 2009.
"Despite economists heralding the end of the recession, people's experience of the recession will leave an indelible mark on consumer behaviour. The reality is that buying behaviours formed during the 'Big Squeeze' are likely to continue long after the recession is technically over."
---
This work is licensed under a Creative Commons Attribution-NoDerivatives 4.0 International License.
Please view the republishing articles page for more information.
---