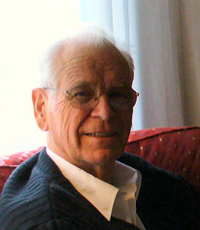 A Paul Hare, a global sociologist passionately engaged in the world around him, has died at 86.
Emeritus Professor Paul Hare, head of the Department of Sociology from 1973 to 1980, died on 31 October in Beer Sheva, Israel.
Hare was Professor Emeritus in the Department of Sociology and Anthropology, Ben-Gurion University, Israel, and an affiliate of the University's Jacob Blaustein Institutes for Desert Research.
Hare's early notoriety in sociology came from his dedication to small-group research. At Harvard's Department of Social Relations, with Robert F Bales and Edgar F Borgatta, Hare edited the classic 1955 collection titled Small Groups: Studies in Social Interaction.
Another focus of Hare's scholarly contributions was functional analysis of social interaction, derived from the work of Talcott Parsons. Hare blended the functional perspective with other theoretical approaches, such as dramaturgical analysis and the creativity hierarchy, as a method for examining social change, which included the US civil rights struggle, global peace movements, India's Shanti Sena, the fight against apartheid in South Africa, and the Hebrew Israelite Community.
Hare's greatest professional legacy is his life as a model of the sociologist engaged in the currents of social history, across nations and diverse peoples, propelled by his Quaker values to "bear witness" and be a participant observer of social action for peace and justice.
The Sociology Department, and particularly current members associate Professors Ken Jubber and David Lincoln and administrative assistant Ramela Bhaga (all three of whom knew Hare in the 1970s), paid homage to him.
"He was a world-renowned scholar who during his UCT involvement helped grow and shape the Department of Sociology intellectually. Moreover, in 1975 he founded the journal Social Dynamics at UCT and was its first editor. The endurance and quality of this journal bears testimony to his foresight, and to the research and publishing he stimulated. As a person, he will be particularly remembered for his political activism in the department and in Cape Town, and for his emphasis on consultation and consensus decision-making."
Hare is survived by his wife, June Rabson Hare; their sons, Simon and Andrew; four children from a previous marriage: Sharon, Diana, Mally and Christopher; and two granddaughters, Eva and Lulu.
---
This work is licensed under a Creative Commons Attribution-NoDerivatives 4.0 International License.
Please view the republishing articles page for more information.
---