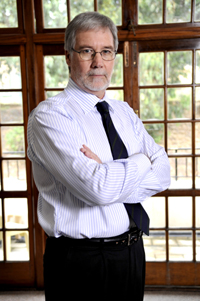 "I, too, once lived in Arcadia."
Those are Professor Danie Visser's words; though taken from the Latin title of a Nicolas Poussin painting, they best describe his feelings as he retires as the warden of Smuts Hall residence at the end of the year. Arcadia, of course, refers to a Utopian vision of harmony with nature.
Visser hangs up his warden's jacket after 12 years because, as deputy vice-chancellor responsible for research, he has "a little too much" on his plate.
This means that the days of walking down from Smuts to his office (he will be moving to his house in Pinelands), and of unscheduled visits by students in the evenings, are things of the past.
But it's been a wonderful time, Visser says.
"Being a warden has been the best part of my existence at UCT."
Visser believes that wardenship is an important part of UCT's overall service to students, and encourages all senior staff members to consider it very seriously.
It's a rewarding way to get know students in a different way.
"When you speak to students in a lecture room you talk about your subject, but when you interact with them in residences, you talk about larger life, and really get the thinking of young people."
One of the key challenges facing residences is to make them inclusive, he says. This means that, through structures and practices, everyone is made to feel happy and part of the residence.
"With South Africa having a diverse culture and a divided history, that is not always an easy task. Residences at UCT are doing a good job of integrating students, but there is still much to do."
His stint had its ups and downs, however. A low point was when a student fell out of a window, sustaining an injury that cost him a year's study.
What about the highlights? From watching inter-res sport and presentations by honorary academic fellows, to students' involvement in community outreach projects and high table dinners, that list is endless.
"Being in Smuts Hall is very special, and I shall miss it."
---
This work is licensed under a Creative Commons Attribution-NoDerivatives 4.0 International License.
Please view the republishing articles page for more information.
---