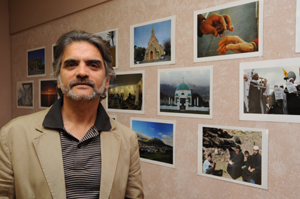 On record: Prof Abdulkader Tayob with a photographic gallery that formed part of a recent showcase of research in the Centre for Contemporary Islam in South Africa.
Two years along its five-year project on Islam, African Publics and Religious Values, UCT's Centre for Contemporary Islam in South Africa thought it was time to showcase the work being conducted under the ambit of the study.
So recently, the 10 or so researchers on the project, spanning from honours to postdoctoral level, prepared and presented posters on their work to colleagues at the centre. And the range of topics was impressive, covering everything from madrasas (Muslim schools) in South Africa and Uganda, kramats (holy shrines) in Cape Town and Muslim radio stations in Tanzania, to issues of identity in Muslim marriages and human rights in Muslim discourse.
That sweep of topics is partly thanks to the open-ended theme of the project, funded by the National Research Foundation and others. The aim, explains centre director, Professor Abdulkader Tayob, is to explore the role and manifestations of Islam in public life.
"Over the past 20 or 30 years, religion has come back into the broader public sphere, making demands on politics, economics, society and education, among other areas," explains Tayob. "So our project is very much about developing a sociology of Islam."
While students and researchers were free to select their own topics, Tayob has encouraged South Africans to do work on the Muslim experience in other African countries, notably Tanzania and Ghana, where there are sizeable Muslim communities but little in the way of research. Similarly, he asked students from other African countries to zero in on the rich Muslim life and heritage in South Africa.
While that's not always possible, the project has shrugged off some other outdated notions about who registers with the centre. Joseph Wandera, a lay Christian priest in Kenya, found the centre the ideal retreat for his comparative study on Muslim and Christian public preaching in his country.
---
This work is licensed under a Creative Commons Attribution-NoDerivatives 4.0 International License.
Please view the republishing articles page for more information.
---