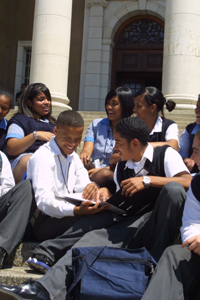 For a few hours on Saturday mornings the Students' Health And Welfare Centres Organisation (SHAWCO) buses in 200 learners from 10 high schools in townships around Cape Town, to receive tutoring from Model C teachers in English, physics, life science and maths.
Since 2004, SHAWCO has been helping high school students in local townships to improve their results in these critical courses. Last year the UCT group began bussing Grade 12 students to UCT campus on Saturdays, so they could study in top-class facilities and glimpse the wider academic world.
Coming to study at UCT once a week is "a dream come true", says Fatiema Isaacs of Mount View High School. "I'm not even in my first year [of university], and here I am."
The Saturday School students see these weekend classes as a doorway to opportunity. They dream of careers in accounting, civil engineering, paleoanthropology, microbiology and medicine. Not all of them plan to come to UCT next year, but they say that coming here now has raised their expectations for the future.
"SHAWCO started the Saturday School in part to raise students' aspirations," says Carl Herman, SHAWCO's programme co-ordinator. "We did a survey one year, asking township high school students what they would like to see improve in their schools. Most of them said, 'Nothing'. They thought their classrooms were fine. But they had never seen a real laboratory, or had their own computer centre. They didn't know what they were missing."
The Saturday School includes a career guidance programme. Counsellors help the students access forms and fill them out for higher education (not just at UCT) and other skills programmes. Last year, Saturday School was able to go a big step further and provide full three-year bursaries to four learners to come to UCT. The bursaries were provided by Bombardier, the lead company in the consortium that is building the Gautrain in Gauteng..
Bursary recipient Zanele Lwana of Bulumko High School in Khayelitsha has been honing her academic skills since Grade 10. So when SHAWCO came to her school, she signed up for the afternoon tutoring programme.
"But I was not selected for the academic programme, which would help us in key subjects like maths, biology, English and physics," she says. Instead, she was selected for a programme in information technology. But she decided not to let a bureaucratic hurdle stand in her way.
"I just went [to the academic programme] anyway. I was not in the register, but they said if I wanted to come, I could. And it really did make a difference." Such a difference, in fact, that in Grade 10 Lwana became the top student at Bulumko High.
"It was not teachers who were giving you information, but university students. They were more like your peers, so you could feel free to ask anything. They really helped us."
By the time she entered Grade 12 and qualified for Saturday School, Lwana was beginning to think about university. "To me, UCT was the most scary place in the world!" Today Lwana is completing her first year of studies in microbiology, thanks to the bursary she received.
---
This work is licensed under a Creative Commons Attribution-NoDerivatives 4.0 International License.
Please view the republishing articles page for more information.
---