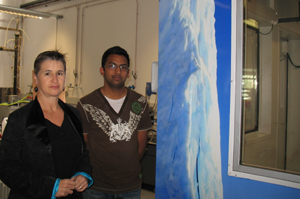 Prof Alison Lewis and master's student Rinesh Jivanjii outside her new "freezer" where they will do their research.
A new method for recycling the salty water produced by coal mining could benefit both the mining industry and the environment, according to an award-winning paper by Professor Alison Lewis, head of UCT's Crystallisation and Precipitation Unit in the Department of Chemical Engineering.
Lewis was awarded the best-paper prize at the Water in Mining Conference, held in Perth, Australia, by the Australasian Institute of Mining and Metallurgy and the Sustainable Minerals Institute, for Worth its Salt: How eutectic freeze crystallisation can be used to recover water and salt from hypersaline mine waters.
Co-authored by PhD researchers Dyllon Randall and Sarashree Reddy, master's student Rinesh Jivanji and research officer Jeeten Nathoo, the paper proposes a protocol methodology for testing the technical and economic feasibility of eutectic freeze crystallisation (EFC) for South African coal mines.
Nathoo explains that briny water produced in mining is often dumped into drainage areas, where the water evaporates, leaving its minerals behind. The problem with this method is that the water is lost, and there is always the danger of seepage.
"It's a costly and non-sustainable method," he says.
Another method is to boil the water, but this too has its problems. The process is energy-consuming, the left-over minerals still have to be dumped, and again, the water is lost. In a country like South Africa, where water-saving is critical, this method is anything but ideal.
The EFC method not only addresses the water problem, but allows for the recycling of the extracted salts. Here, the process is to freeze the brine, which separates the salts from the water. Mine water in South Africa is significantly complex, so as the water cools, different salts, in their pure form, can be extracted at different temperatures.
The result is not only pure, drinkable water, but pure salts, which can be resold, rather than dumped. And the process consumes about one sixth of the energy of the boiling method. So it's a win-win concept, for the environment as well as the mining industry.
The method is not without its problems, says Nathoo. EFC equipment is expensive, and the process is anything but tried and tested. Presently, the Netherlands has the only operational EFC plant in the world. But in the long term, Nathoo maintains, EFC makes economic sense.
With heavyweights like Anglo Coal and Coaltech supporting Lewis' research, EFC may soon become a South African reality.
---
This work is licensed under a Creative Commons Attribution-NoDerivatives 4.0 International License.
Please view the republishing articles page for more information.
---