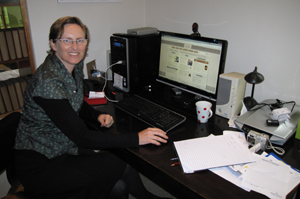 Remembering for the future: Dr Harriet Deacon is the director of the newly launched Archival Platform.
If archivists, museums and heritage workers felt isolated and forsaken, the new Archival Platform hopes to set that right.
Based at and "fostered by" UCT, the Archival Platform was established as an independent entity by Professor Carolyn Hamilton as a civic initiative of her National Research Foundation chair in archive and public culture, in collaboration with the Nelson Mandela Foundation and wide sector discussions.
Billed as a network, advocacy and research project, the Platform aims to build a network of practitioners and resources in the sector. Easier said than done, given that those working in the sector are of varied professions and far-flung.
"At the moment the sector is very fragmented," explains Platform director, Dr Harriet Deacon.
Central to building this network is developing a new sense of context, argues Deacon.
"This is not about archivists and heritage professionals dusting items on a shelf," she says. "It's about understanding the broader significance of the profession, in building citizenship, a sense of identity and social cohesion."
Beyond this lie two major objectives: talking with government on the one hand and the public on the other. In the case of the former, the Platform has launched a Letters to Lulu campaign, urging those working in the field to write to the newly appointed Minister of Arts & Culture Lulu Xingwana, to help her "feel the sense of the pulse of the sector".
"In the face of numerous failures in the national archival system, the Platform works to facilitate public engagement designed to ensure that government fulfils its mandate in relation to the national archival estate," says Deacon.
Next year, the Platform will reach out to communities, those with a vested interest but often little say in the sector.
"There's no one out there speaking on behalf of the public interest," cautions Hamilton.
---
This work is licensed under a Creative Commons Attribution-NoDerivatives 4.0 International License.
Please view the republishing articles page for more information.
---