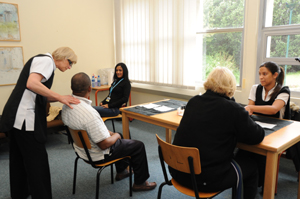 Victimisation, bullying and absenteeism were among the common issues raised as the Human Resources Department presented the Wellness Fair, which ran at the Atrium in the Humanities Graduate School Building from 7 to 9 October.
These were some of the problems identified in short-term counselling by the UCT Employee Health and Wellness Programme (EHWP).
The goal of the EHWP is to offer confidential and experienced help with the resolution of personal, as well as problems that are affecting work or have a potential to affect work. Thus the Wellness Fair.
Ashley Taylor, organisational health and wellness advisor for UCT, said a lot of staff who consult him suffer from stress and depression that is, in many instances, linked to the work environment.
He said that while staff are stressed by unfair treatment, managers stress as well with the high absenteeism - issues that came out in the university-wide climate survey.
The Wellness Fair was designed to encourage staff to play a more meaningful role in their own health and that of their families.
Scores of internal and external service providers showcased products and services that can help with physical and psychological problems.
For instance, if you feel stressed, beauty massage therapists were on hand; or go for a health screening to check your blood pressure, body mass index, and HIV-status, as well as glucose and cholesterol levels.
Taylor emphasised the success of treating HIV/Aids as a common lifestyle disease by highlighting the fact that there is an average 94% uptake of HIV tests at most wellness screening days in the various faculties and departments.
Other services include eye screening, financial advice, fitness centres, counsellors and a guide to UCT's employment benefits.
Taylor said it is important for staff to be emotionally, physically and psychologically fit.
"Problems can lead to people taking days off which impacts negatively on production," he said.
"High-risk diseases associated with lifestyle diseases can be catastrophic for both staff and the university, and can even cause death."
HR has been monitoring the initiative, and there has been a slight shift in people's lifestyles. Staff are paying greater attention to their health and are doing something about their problems.
The programme is a confidential benefit, and Taylor encouraged staff to come forward to deal with issues as soon as possible rather than wait for it to reach a crisis point.
---
This work is licensed under a Creative Commons Attribution-NoDerivatives 4.0 International License.
Please view the republishing articles page for more information.
---