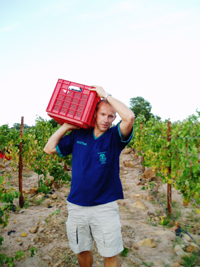 Day Job: Professor Lee Wallis has earned a five-star award for winemaking in the new John Platter South African Wine Guide 2009
Head of the Division of Emergency Medicine at UCT and Stellenbosch University, and head of emergency medicine for the Provincial Government of the Western Cape, Professor Lee Wallis, is an expert in more than his field. He has just picked up a five-star award for winemaking in the new John Platter South African Wine Guide 2009 for the Dunstone Shiraz 2008.
Winemaking and medicine is an interesting combination. How did you come to be on these two paths?
My wife, Abbi, and I moved to Cape Town from the UK in 2002 and fell in love with the country. We set up a guest house on our farm in Wellington, planted some vines for "fun", then thought we may as well build a winery. No master plan really.
Do you feel that they are related?
Not at all! Emergency medicine attracts people with no attention span, who want adrenaline and rushing around. Winemaking requires time and patience. I have had to become somewhat split in my personality!
How do you find time to become a winemaker?
I have a very understanding wife!
What is your approach to winemaking?
For fermentation, we follow a standard but old method. It involves punching through the cap of grape skins every four hours for about two weeks. It's very hard work to do by hand, but the results are great.
What's the medicine/winemaking division of time?
The medicine is obviously full-time, so the farming and winemaking is a challenge. Nights and weekends are my main time for this, but over February and March we have to do something to the wine every four hours, so it can be a bit of a challenge!
Any special goals in your sights for the future?
Tough question' Try to get more balance between work and pleasure, now that Abbi & I have a 10-month-old son (Francis), to go with our ridgeback, called Merlot, and a weimaraner, who is the logo for the winning wine label. Her name is Shiraz.
---
This work is licensed under a Creative Commons Attribution-NoDerivatives 4.0 International License.
Please view the republishing articles page for more information.
---