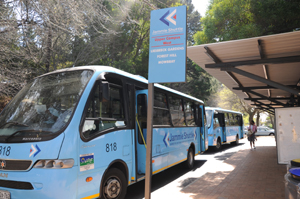 Dear Jammie Shuttle
I feel I know you so well, so many are the close encounters we have had! Squeezing past you on the Ring Road bend next to RW James, with you nearly on the wrong side of the road, coming at me... getting sandwiched between two of you when one of you pulls out next to me, with another coming the opposite way... getting forced onto the centre island in Mowbray when one of you has just changed lanes without warning... dodging you outside Leo Marquard when you rely on your size to bully your way into the lane, without signalling, twice (yes, you - the big one!).
And the best one: having you repeatedly stop me getting out of my very-difficult-to-exit parking place by charging through the turnaround at the North end of University Avenue so as to cut me off - only to pull in to the stop directly opposite, leaving me blocking traffic, with nowhere to go.
Of course, I have retaliated by slowing down in front of you twice - and forcing you off the road once, with some banging on your driver's door and some expletives deleted (or was it twice?) - but this is getting silly.
I appreciate that the University has been sadly lacking in imagination when it comes to providing either a decent terminus at the end of University Avenue, or suitably sited stops, or even to widening the road enough to allow proper traffic flow. I appreciate that you run to a schedule, that you often run late, and that we other drivers are often an annoyance when we insist on staying in our lanes - but they are the enemy, not us!
All we ask is some consideration - and some space on the road.
Sincerely,
A UCT driver
---
This work is licensed under a Creative Commons Attribution-NoDerivatives 4.0 International License.
Please view the republishing articles page for more information.
---