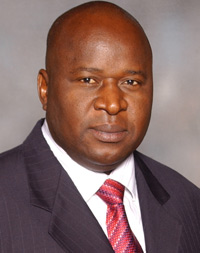 Governing the crisis: Despite many economic victories, there are plenty of challenges ahead for South Africa, said Tito Mboweni at the recent Steve Biko Memorial Lecture.
Delivering the 10th Annual Steve Biko Memorial Lecture at UCT on 10 September, Reserve Bank Governor Tito Mboweni concentrated on economic issues as he catalogued some highs and lows of South African macroeconomic development since 1994.
Foremost among the success stories has been the country's ability to keep inflation in check, a necessary condition for sustainable growth and prosperity, said Mboweni.
"I would like to believe that Steve Biko would have been gratified by the fairly contained pace of inflation over the past 15 years," said Mboweni, "knowing the dire consequences of inflation for the poor - those who are usually least able to hedge against inflation - in particular."
But recent wage settlements above the projected rate of inflation are worrying, he added. So, too, have been the outbreaks of xenophobic attacks in South Africa. This undermines "lofty ideals" to establish, among others, a free trade area, a common market and a monetary union in the Southern African Development Community region.
While there have been a number of economic victories, including increases in real GDP and real gross national income per capita, they have not always delivered the desired results, said Mboweni. For example, the South African economy has not created enough jobs to keep up with the growth in the labour force.
"The growing unemployment rate combined with the partly undesirable inequality trends can be fertile ground for exacerbating polarisation among South Africans, leading to social tension across racial, class and gender lines," said Mboweni.
The current global economic crisis has also added to the country's woes, he noted.
"It is eroding some of the achievements we have made in stabilising the economy, broadening economic participation and improving the living conditions of many South Africans."
Download copy of the lecture.
Download podcast of the lecture.
---
This work is licensed under a Creative Commons Attribution-NoDerivatives 4.0 International License.
Please view the republishing articles page for more information.
---