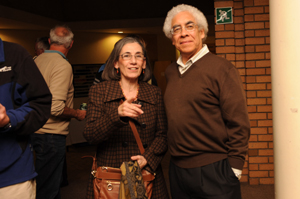 Polarised debate: Attending the symposium were Prof George Philander and his wife, Hilda.
The social and economic effects of global warming on developing countries was the focus of a symposium presented at UCT recently, the German-South African Research Lecture Series 2009.
The event, titled The science and ethics of global warming - facing future challenges: consequences and opportunities, included two lectures and a panel discussion.
Professor Hans von Storch, director of the Institute of Coastal Research in Geesthacht, Germany, spoke on the role of ethics of science in the study of climate change.
"Scientists provide a service to society," he said. "Our job is to give explanations of complex phenomena, and if we don't like our answers, it doesn't matter. We don't have to please ourselves, or those who hire us."
He also warned against interpreting scientific findings through the filter of our own culture and prejudices.
"Global warming has quite rightly become a political debate, which spills over into science, where scientists can act as stealth advocates for value-based agendas," Von Storch said.
"In this process, the authority of science can erode, as it becomes difficult to distinguish authentic science from the opinions of nongovernmental organisations or other value-driven social actors." UCT's Professor George Philander, also of Princeton University in the US and director of the African Centre for Climate and Earth System Science in Cape Town, explored the reasons why the debate on global warming has become polarised and emotional.
"The connection between science and human affairs is very complex," he said. "Science tells us nothing about ethics, and scientific findings have no ethical implications." Philander also argued that the debate on global warming is political, not scientific. "It's often presented as something to fear, but we could also use global warming as an opportunity to bridge the divide between science and society. Africa needs an optimistic voice, and hopefully this issue will attract students to science."
---
This work is licensed under a Creative Commons Attribution-NoDerivatives 4.0 International License.
Please view the republishing articles page for more information.
---