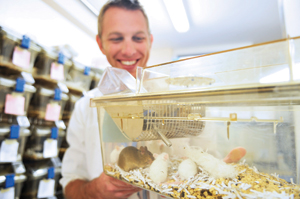 New paths: Work done by Hylton Buntting on embryo transfers has allowed the Animal Unit to launch a whole new service and laboratory.
As just about any medical journal will tell you, the laboratory mouse is the most commonly used animal-research model today.
That's mainly because they're mammals, are relatively easy to maintain and handle, reproduce quickly and, genetically speaking, have quite a bit in common with humans. Given the range of work done, it's not surprising that there are hundreds of established strains of lab mice, ie specific populations that possess a desired trait that makes them suitable for specific research programmes.
The UCT Animal Unit, for example, houses up to 140 strains, totalling thousands of mice. The logistics - space, costs - can cause a few concerns. (The mice are kept under studiously-maintained, specified-pathogen-free or SPF conditions, which means specially designed cages, a prescribed diet, which is not cheap, and distinctive bedding.)
Which is why over the past two years the unit has slowly rolled out its own mouse-embryo-transfer laboratory, the first of its kind in the country. While embryo transfers are well established in the agricultural sector in South Africa, it's quite novel in laboratory-animal science and technology circles.
In this technique, embryos are flushed from the fallopian tubes of the genetic mother (usually one who carries natural pathogens) and implanted into a cleaner, lab-bred foster mother.
Embryo transfers have a number of advantages. It's a better alternative to natural breeding for breeding a line of 'clean' mice (free of everyday mice pathogens, viruses or parasites); it's cheaper to import embryos than live mice when in search of a specific strain; and through cryopreservation a particular, perhaps rare, strain can be stored until needed.
Until recently, however, the Animal Unit had little expertise in this field - they could harvest the embryos well enough, but no more than that - and too little spare time to acquire the skills, explains manager Hiram Arendse. But slowly, the varied and growing requests from researchers suggested that it was a niche the unit would soon have to fill.
"Even though embryo transfers are done routinely around the world, for us it was new technology," Arendse says.
They weren't short of reading material on the subject, but that has its limitations, explains fellow laboratory-animal technologist Jakobus Visser. "You can learn techniques in books," he says, "but the books don't describe the finer details of the work - how do you position the mouse, for example."
But the addition of Hylton Buntting from the Division of Immunology created the much-needed capacity.
Buntting had done embryo transfers in larger animals like cattle and sheep, but had trouble down-scaling his technique to mice. After some 50 attempts, he had yet to manage a successful implant.
Two weeks with experienced technicians at the Lyons labs of the National Centre for Scientific Research (CNRS) in France changed all that, however.
"I picked up a lot of the little tricks that they use, just to fine-tune the technique," he reports. "Seeing firsthand what gets done and getting advice from the guys as you're working clarified things a lot."
The trip has obviously paid off, and Buntting has managed three successful implants in his 13 attempts since his return, meaning three new litters. It's still early days, though, he cautions.
"In this kind of work, you can get it right once, and the next time you battle again. So it's a matter of repetition and practice."
---
This work is licensed under a Creative Commons Attribution-NoDerivatives 4.0 International License.
Please view the republishing articles page for more information.
---