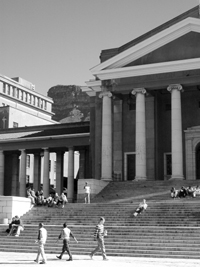 In a communiqué to UCT staff, vice-chancellor Dr Max Price has proposed an urgent workshop for the Senior Leadership Group (SLG) as well as other measures that will address the pace and nature of transformation at UCT, selection and support processes, and weaknesses in the university's disciplinary processes.
This follows the aftermath of the disciplinary hearing involving former deputy registrar Paul Ngobeni, and his subsequent departure from UCT.
Ngobeni was appointed as deputy registrar in August 2007. Following his appointment, a number of complicating factors led to a protracted and difficult disciplinary case. Price eventually annulled the disciplinary case brought against Ngobeni.
Nonetheless, Price said the case had highlighted areas of concern for the university.
The subsequent process will be led by acting deputy vice-chancellor Professor Crain Soudien, who will deliver a report that spells out the patterns of UCT employees' working experiences - and ways in which various organisational units are dealing with them.
Among other things, the SLG workshop will examine the information and findings of the recent institutional surveys conducted at UCT. Price also plans a "360-degree feedback system" for all senior managers and deans that will test how staff in their units felt about the inclusiveness and openness of the institutional culture in these units.
He urged the UCT community to implement an acceptable code of behaviour, "particularly when we differ with one another", and promote a culture of debate.
In his communiqué, Price urged staff to use the structures put in place for unresolved incidents of racism or discrimination, such as the Discrimination and Harassment Office, or formal grievance procedures.
In addition, he also called for an examination of UCT's human resources processes.
"Are our HR processes robust enough to deal swiftly with complicated cases? Recognising that there will always be a need for standard disciplinary procedures, I would like to put on the transformation agenda the exploration of alternative dispute-resolution mechanisms, that seek to restore relationships rather than having winners and losers. Such alternative processes could be strengthened by the introduction of an ombud and could, where appropriate, be applied to student conflicts as well."
Price added: "As a broader initiative we must interrogate our selection processes, our induction processes, the support systems available during times of conflict, and the disciplinary processes themselves."
Freedom of speech was also addressed. Price said that while UCT does not restrict employees from talking to the media, employees had a responsibility to point out whether they are writing in their personal, professional or official capacities.
"I propose, following a suggestion from the Academic Freedom Committee, that we review our disciplinary procedures to see whether we can increase transparency and management accountability by opening disciplinary cases related to public statements by an employee."
---
This work is licensed under a Creative Commons Attribution-NoDerivatives 4.0 International License.
Please view the republishing articles page for more information.
---