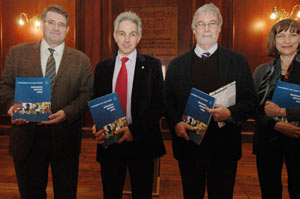 The best: Dr Albert van Jaarsveld, VC Dr Max Price, DVC Prof Danie Visser and Marilet Sienaert, director of the research office, at the launch of the 2008 Research Report.
UCT is the backbone of the research system in South Africa and its average impact factor has been increasing - an exception to what has been happening in other universities.
This is the view of Dr Albert van Jaarsveld, recently appointed president of the National Research Foundation (NRF). He was speaking at a function to celebrate UCT's NRF-rated researchers, and to launch the university's 2008 Research Report.
Van Jaarsveld assured researchers that his organisation is fully committed to the research system in South Africa.
"We will do all we can to support research and fund quality research," he said.
A former dean of science at the University of Stellenbosch, Van Jaarsveld said the NRF would continue to fund the incentive system for rated researchers in the next few years. He spoke of the Competitive Funding Scheme which will be launched later this year, which is open to discipline-based research programmes.
"Our thinking is that there is a lot of strategic money going to research in particular areas, and there is very little money going to the support of fundamental, basic research."
As the money becomes available from Focus Area programmes, it would be driven to support discipline-based work.
"We think a healthy research system should not be about focus only, but should have diversity. Otherwise we will all be doing the same kind of research 10 years down the line."
Van Jaarsveld reminded researchers to apply for the five Square Kilometre Array-related Research Chairs in radio astronomy, which will soon be advertised, and to participate in the NRF peer review process "to turn the NRF into an organisation that we will all be proud of".
Vice-chancellor Dr Max Price said UCT believed that the focus-based research system was good, as opposed to what Van Jaarsveld was proposing. "You have thrown to us a challenge to think about our strategies," he said.
Deputy Vice-chancellor Professor Danie Visser called on researchers to make their work impact not only internationally, but also relevant to the local people. "Our research must mean something to our city, to our country, and to our continent."
The Research Report shows an increase of 12% in accredited research output and an increase of 26% in total research income (to R651.7 million) in 2008. UCT also saw an increase in awards to postgraduate students to R83 million. At the end of 2008, its researchers held 728 grants from the NRF, valued in excess of R176 million.
In addition to this, 748 NRF scholarships and bursaries were offered to our postgraduate students, valued at R26.3 million, and 79 NRF awards to postdoctoral researchers, valued at R6.1 million.
Copies of the report are currently being distributed by the Research Office. Additional copies may be requested by contacting Christina Pather.
---
This work is licensed under a Creative Commons Attribution-NoDerivatives 4.0 International License.
Please view the republishing articles page for more information.
---