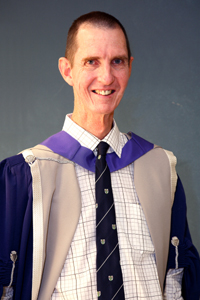 The number of people in the world suffering from visual impairment has come down significantly in the past nine years, but it is up to health-care workers to keep that downward trend going.
So said Professor Colin Cook on 22 July at his inaugural lecture, Vision 2020 -The right to sight.
Cook reported that there were 30 million blind people in the world in 1980, 38 million by 1990 and 50 million by 2000. But in 2009, that number has gone down to 37 million, thanks to Vision 2020.
The initiative was launched in 1999 by the International Agency for the Prevention of Blindness and the World Health Organisation, for the Global Elimination of Avoidable Blindness. Its purpose is to eradicate the main causes of visual impairment - cataract, glaucoma and diabetic retinopathy - and to give millions of needlessly blind people the right to sight.
"Vision 2020 is having an impact, and it is our responsibility to continue the good work," he said.
Cook drew a bleak picture of the current situation, saying that the highest burden of blindness is in Africa, with the poor hit the hardest. Yet most of these cases are treatable and preventable.
Among the reasons for the persistent problem is the population boom, the ageing of the world population, and inadequate eye-care services for the poor, he explained.
Cook said infrastructural and human resource developments, as well as disease control, were key to eliminating blindness.
He advised, though, that the process would be like "eating an elephant - piece by piece", and that team effort was required. Essential to this would be the establishment of 4 000 programmes around the world, with a chain of training, supervision, and support extending from community level up to tertiary level.
UCT can and should make a significant contribution, Cook argued.
"One of the greatest impediments is the lack of human resources in Africa. UCT is strategically well-placed to train clinicians who are competent to deal with individual patients, and who have a good public health perspective."
---
This work is licensed under a Creative Commons Attribution-NoDerivatives 4.0 International License.
Please view the republishing articles page for more information.
---