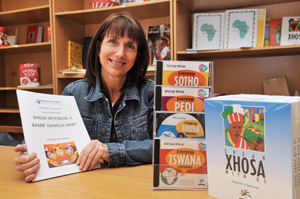 Welcome back: To boost interest in African-language studies at UCT, Adjunct Prof Tessa Dowling, back after a break of 12 years, will be using some of the teaching tools she's developed in her company, African Voices.
Adjunct Professor Tessa Dowling of the African Languages and Literatures section has learned a few valuable lessons in the 12 years she's been away from UCT.
As director of African Voices, which provides a suite of celebrated language-related services and teaching guides, Dowling has witnessed first-hand the march of African languages. This, after all, has been the age of the cellphone, the SMS, blogging, MXit, an explosion of brand names and the rise of English, all assimilated and remixed into African languages.
As a result, urban isiXhosa, for example, charged with township jargon and slang, is a far cry from the version generally taught at universities. It's that kinetic, colloquial touch Dowling wants to pass on to her students at UCT.
"I'd like our department to have an ear in the townships," she says. "We should not just be teaching standard varieties, which of course we must uphold; we should also be researching and teaching varieties that are non-standard."
It's that approach that Dowling and the section hope will lure back an audience it has lost over the past few years.
While the section still attracts substantial numbers of international (especially American) and non-mother-tongue South Africans to its beginner courses, curriculum changes in the late 1990s saw a sharp drop in registrations from mother-tongue speakers, who were possibly not interested in the deep linguistic analysis that was part and parcel of the mainstream programme. This, for one thing, undermined any plans the section may have had to boost postgraduate studies in these languages.
Which is why they called on Dowling who, in turn, leapt at the opportunity. ("I think like an academic," she says with a laugh.)
"Since her company was involved in second-language learning we thought she might bring that experience into our classroom," says Dr Abner Nyamende, section head. "As a white urban South African who acquired isiXhosa when she was already at university, she is an ideal model for our students."
Among the first things Dowling did was set up a new website, www.afrilang.uct.ac.za, designed by computer science students Michael Dube and Mononts'i Nthontho and founded on the groundwork of Rose Mantoa Smouse, who runs the African language courses in the Faculty of Health Sciences.
And, over the next couple of years, the section will bring in a raft of new, self-pioneered courses. These will be open to all students, they will, perhaps controversially, be taught in English, and will include:
Yebo Gogo, which will analyse advertising in African languages.
Introduction to Texts and Talk in Africa, which explores the beginning of writing in African languages (using texts going back to the 1850s), and how - if at all - contemporary African-language texts and sources, such as radio, reflect the spoken version.
Sex, Love and Taboo, which will look at how people speak about HIV/AIDS and sex in general, and how modern-day ads and magazines in African languages portray and talk about sex and sexuality.
Growing up in Africa, studying children's first experience of language, and how they learn language.
New majors are planned in Xhosa Communication and Indigenous African Languages and Literatures.
Dowling and Nyamende echo each other's sentiments about where they'd like to see the section in a few years' time - chock-a-block with postgraduates breaking new ground.
"There is still so much initial research to be done in the field of African languages, and we need to produce home-grown scholars who will lead in this field," says Nyamende.
"I would love to see the section full of students who have ideas for research that are completely pioneering," adds Dowling. "We want to prompt them to think about the linguistic world, and the multi-lingual society they live in."
Six months into this, her second term at UCT, Dowling is still bristling with enthusiasm, even if the decision-making pace is slightly slower than what she's grown used to. Academia's just her cup of tea, she says.
"I think I'm a better academic now because, for one thing, I spend far more time reading academic journals than I did before. I love being paid to read and research."
That can only bode well for her students.
---
This work is licensed under a Creative Commons Attribution-NoDerivatives 4.0 International License.
Please view the republishing articles page for more information.
---