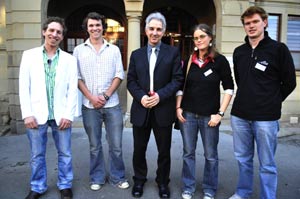 Social wise: VC Dr Max Price is flanked by Student in/and Community Conference organisers, Jon Hodgson, Jon Parsonage, Jess Auerbach and Brennan Hodkinson.
UCT would be failing if it produced students who are not committed to alleviating social injustice, Vice-Chancellor Dr Max Price said at the opening of the Students in/and Community Conference on 24 July.
Price said that throughout the years the student body had maintained its efforts to fight social injustice issues, but that had taken a back seat in the past 15 years, following the demise of apartheid, as they sensed that the battle had been won.
"They felt that it was no longer the job of the universities to fight the battle, to toyi-toyi and picket against social injustice," he explained.
Students said they have been pushing for that space for the past five years, and Price believes it has opened up again in the past year or so, following changes in the political landscape. While the government succeeded in many areas it had failed in others.
"Once again, universities must think of the role they can play, and take up that role. We must challenge injustices and campaign on behalf of the poor."
The student-driven conference was in that spirit as it was for a deep interrogation of UCT's engagement with the community on all levels.
"What is the university supposed to do, what is its business?" asked Jon Hodgson, one of the organisers.
He said that in the past five years UCT had seen a massive growth in community activities (through SHAWCO and following the emergence of Ubunye as well as through numerous other student-run organsiations), and that about 2 000 students were participating in the community weekly.
"It got to a point to where people started to ask questions about what they were doing," he said.

His fellow student Brennan Hodkinson, said the event was an opportunity to get students thinking about how they can improve their community initiatives. Issues dealt with included transformation; interface between student organisations, the university and the communities; and how universities can be the agents of societal change.
---
This work is licensed under a Creative Commons Attribution-NoDerivatives 4.0 International License.

Please view the republishing articles page for more information.
---