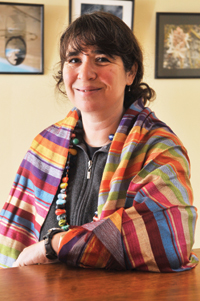 Dr Rachel Wynberg of UCT's Environmental Evaluation Unit chaired part of the First International Meeting Against Biopiracy, held recently at the French National Assembly in Paris.
The meeting was organised by a group of French non-governmental organisations, under the leadership of the former French first lady, Danielle Mitterand.
Attended by indigenous representatives, lawyers, scientists and entrepreneurs from 15 countries, the meeting was aimed at understanding the complexities of biopiracy and its threat to cultural and biological diversity.
"Biopiracy is the misappropriation of traditional knowledge and biodiversity through the patent system," explains Wynberg. "It's been prevalent for centuries in Southern Africa, but is only now starting to be addressed."
An African example of biopiracy is the case of the Hoodia succulent plant, which grows in the Kalahari Desert. For generations the San people have used it as an appetite and thirst suppressant. But in 1996 the South African Council for Scientific and Industrial Research (CSIR) isolated the hunger-suppressing chemical component in Hoodia and patented it.
The CSIR licensed the UK-based Phytopharm to continue with further development. None of the projected royalties were earmarked for the San. In fact, a Phytopharm spokesperson said that the CSIR had led him to believe that the San people were "extinct".
In a victory against biopiracy, the CSIR eventually signed an agreement to recognise and reward the San as holders of traditional knowledge.
But Wynberg explains that not all biopiracy issues are resolved.
"The patent system facilitates the privatisation of our biodiversity, which should be kept in the public domain. In South Africa, patent applications must disclose their sources of knowledge. This should be a global requirement."
Wynberg has co-edited a book about these issues, titled Indigenous Peoples, Consent and Benefit Sharing: Lessons from the San-Hoodia case, which will be published by Springer in October.
---
This work is licensed under a Creative Commons Attribution-NoDerivatives 4.0 International License.
Please view the republishing articles page for more information.
---