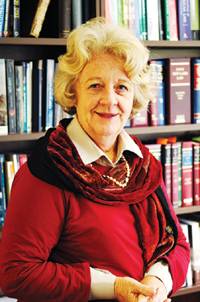 I believed in the whole concept of Khuluma [UCT's climate intervention strategy and transformation leadership development programme] and I am proud of UCT for putting their money where their mouth is.
Every person I know who has been on the course has been moved by it. I had twice wanted to go but had to cancel, and now, here I was at this old farmhouse in Bergvliet on a wintry day in June.
People milled around warming their hands on their coffee cups. There was some conversation among those who worked together, but for the most part we were just a group of individuals.
By the next afternoon, that same group held their collective breath - and their tears - as a post-1994 colleague said: "I now know why the apartheid legacy is seen as such a huge giant. But I also now know that each of us has the determination, just as David had, to use the stones of our shared experience to bring down this Goliath."
Just what was that shared experience you might ask? Well, we found that we all love our jobs at UCT, even if the bureaucracy sometimes drives us demented. And each one of us knew what it felt like to be discriminated against. But what also came as something of a surprise was that each one of us realised that we had been guilty of prejudice, of having treated another human being in a way that made us feel ashamed.
But I think it was the sense of the insidious nature of power over another group that made the greatest impact. We watched a documentary made 40 years ago on how a teacher got her primary school learners to confront the evil of racism (their 'February hero', Martin Luther King, had just been slain).
She divided them into the blue-eyed group, and the brown-eyed group and each took turns to wear the dreaded collar of stigma and to experience the reality of less food and restricted play. Each group also had a taste of power, a taste that some quite liked.
What really affected us, however, was the extent to which the academic performance of each group was adversely affected when they wore the collar. I think it was from that realisation that a resolve to build an integrated society, and not just an inverted pyramid of privilege, was born. We were convinced about integral connections and the model of inclusive change.
It was not all serious. As another post-1994 colleague quipped: "I came expecting to have fun, and I have had fun."
The food wasn't half bad either! So I would urge my colleagues to answer the call to speak out. Go on the next Khuluma workshop - and take your department with you.
---
This work is licensed under a Creative Commons Attribution-NoDerivatives 4.0 International License.
Please view the republishing articles page for more information.
---