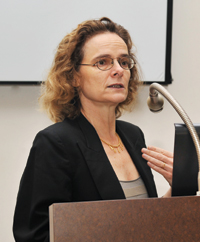 Atom bombs: Prof Nora Volkow, director of the of the National Institute on Drug Abuse in the US, gave the keynote address at the Brain and Behaviour Initiative's 2009 Symposium
Drugs affect cerebral function in the brain in such a way that it makes users less sensitive to everyday pleasure.
So says Professor Nora Volkow, director of the of the National Institute on Drug Abuse in the US, who kicked off the Brain and Behaviour Initiative's 2009 Symposium with a keynote address on 20 July at Valkenberg Hospital.
In her address, titled Neuroscience and Substance Abuse, Valkow outlined the effects of substance abuse on cerebral function, and the nature of addiction.
Volkow has published multiple papers on her research, many of which have been replicated by others, with the same findings.
She explains that normal brain activity is disrupted by repeated drug use, specifically of alcohol and cocaine.
"These drugs are very potent, atom bombs of pleasure," Volkow says. "Repeated use adapts the brain, so that the user can only experience pleasure through the drug."
This is one of the aspects of addiction - a condition which, Volkow notes, is increasingly understood using new technologies.
"Addicts lose their inhibitions and the ability to control their desires. In a sense, they lose their free will."
Professor Colleen Adnams, Head of the Division of Intellectual Disability in UCT's Department of Psychiatry and Mental Health, spoke on The Neuropsychology and Neuroimaging of Fetal Alcohol Spectrum Disorders.
Adnams is part of a five year study, involving 80 children over a period of time, to assess brain structure and function changes in subjects who were prenatally exposed to alcohol (i.e. during their mothers' pregnancy). Each child is scanned, then scanned again 18 months to two years later. The subjects will undergo a battery of cognitive and behavioural tests related to the two scans to pinpoint areas of deficit.
The study is part of the National Institute on Alcoholism and Alcohol Abuse-funded international Collaborative Initiative on Fetal Alcohol Spectrum Disorders, joining San Diego and Los Angeles in the US as one of the three scanning sites, collectively (and colourfully) named Mapping the Brain, the Face and Neurocognitive Function in Fetal Alcohol Spectrum Disorder.
"It will be interesting to see the difference in South African children compared to the US sites," says Adnams. "South African children with different backgrounds from US children, and who show more severe effects of prenatal alcohol exposure, may produce different brain imaging results."
(Additional information on BBI projects is available here).
---
This work is licensed under a Creative Commons Attribution-NoDerivatives 4.0 International License.
Please view the republishing articles page for more information.
---