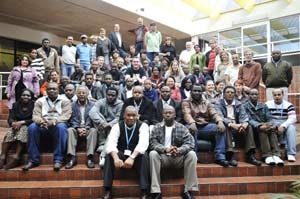 Putting heads together: Delegates from around the globe converged at UCT for the 2009 International Geoscience and Remote Sensing Symposium (IGARSS 09).
In view of devastating natural disasters in the world, remote sensing is no longer just useful but crucial in ensuring survival, Minister of Science and Technology, Naledi Pandor, said at the 2009 International Geoscience and Remote Sensing Symposium (IGARSS 09) at UCT.
Pandor said satellite remote sensing, in particular, is at the core of worldwide communications, global positioning systems and data gathering on climate change and global warming.
"We need early warning systems that will allow us to plan and co-ordinate efforts to counter the effects of climate change," she explained.
Pandor told delegates about projects in South Africa and on the African continent to advance science and remote sensing, including the African Resource Management Constellation, the Science and Technology Consolidated Plan of Action, and the Global Earth Observation System of Systems.
She added that proper monitoring of our planet requires the joint use of in-situ and remote-sensing techniques - and developing and developed countries have to contribute.
Her statement was backed by presentations by rocket scientists from around the globe, who showed initiatives that address disaster preparedness and response, global change and adaptation, good governance, the role of remote sensing in health and disease monitoring, water and food security, forest and fire monitoring, and urban planning.
The week-long symposium was organised by UCT, the University of Johannesburg and other institutions.
Prof Harold Annegarn, IGARSS 09 general chair, said the conference also had a science-enriching programme to stimulate an interest in science among local high school learners.
"They must know that rocket science in not only happening in the United States, but in South Africa at the local universities," he said.
---
This work is licensed under a Creative Commons Attribution-NoDerivatives 4.0 International License.
Please view the republishing articles page for more information.
---