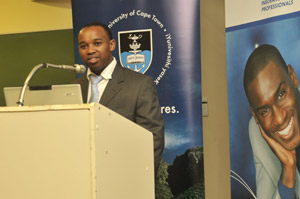 Think big: Alumnus and entrepreneur Siya Mapoko, founder and CEO of iCaptive Corporate Network, addresses young alumni at UCT.
Young entrepreneur Siya Mapoko, founder and CEO of iCaptive Corporate Network, laid bare the secrets of self-made millionaires when he spoke to young alumni on 29 June.
The event was hosted under the umbrella of the Young Alumni Networking Session and held at the Kramer Law Building.
Mapoko is a scientist turned entrepreneur and trader at Investec. He was nominated for the KPMG/Cape Times 2008 Business Personality of the Year (Editor's Award), awarded to individuals who demonstrate entrepreneurial excellence in emerging businesses.
The title of his talk, "Secrets of Self-Made JSE Millionaire Entrepreneur", echoes the theme of his book, Conversations with JSE AltX Entrepreneurs, which sold out after its release a year ago.
Mapoko's business knowledge and skills provided the platform for alumni to interact -and draw some inspiration and ideas.
He graduated from UCT with a BSc (Hons) in chemistry in 2002. In 2003 he conducted research for his MSc thesis at GlaxoSmithKline in England, focusing on contrast agents in magnetic resonance imaging.
"Discover your own values, align your goals with your values, align your goals with your own journey and focus on your future. Above all, take action," he said.
For Mapoko, visiting UCT again felt like travelling down memory lane.
"There is something common to South African entrepreneurs - they do things differently, they think big and they play safely," he added.
The next alumni event will be held in Port Elizabeth on 14 July, hosted by Vice-Chancellor Dr Max Price. Visit the Alumni webpages for more information.
---
This work is licensed under a Creative Commons Attribution-NoDerivatives 4.0 International License.
Please view the republishing articles page for more information.
---