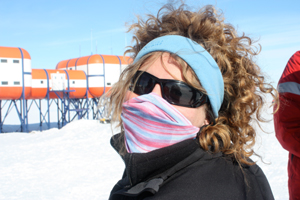 Ice Cube: Dr Joanna Thirsk braves a cool -25 deg C at the South African National Antarctic Expedition (SANAE) base in Antarctica. A UCT alumna, Thirsk is the team doctor at the base and the only woman among the group.
A humungous storm with winds of around 200km/hr, the first sighting of the aurora australis and a winter solstice celebration are some of the highlights reported by UCT alumna Dr Joanna Thirsk from the South African National Antarctic Expedition (SANAE) base in Antarctica.
Thirsk is the team doctor, responsible for the welfare of the 48th winter-over group at the base.
"Lately the weather has been worsening so going out is a bit rarer, although we still have to shovel snow and ice into our snow smelter, which is outside. Last week we had our biggest storm yet, 90-plus knot winds - that's nearly 200km/hr!
"I went out with two of our strongest guys attached to a rope. It was very scary. You are unable to see anything and people have died before, metres from the base, in such conditions. But it sure was an adrenaline rush!"
Thirsk says she has had some "interesting experiences" abseiling into crevasses. She also visited a nesting colony of snow petrel birds, reportedly the most southern breeding birds in the world.
Team dynamics are good but being base-bound they have to be creative when it comes to rest and relaxation.
"Last weekend we had a blow-up pool in our dining hall, as well as a spit braai in the kitchen."
But things are not always so rosy. Pipes burst when the temperature drops, and heating can go on the blink.
"It may seem like a hotel here but one is always aware that we are completely isolated."
The team recently celebrated the winter solstice with a buffet meal.
"Midwinter on 21 June is traditionally a day of big celebrations at all Antarctic bases, marking the point at which the sun is farthest away from us and thereafter will begin its return. Yay!"
---
This work is licensed under a Creative Commons Attribution-NoDerivatives 4.0 International License.
Please view the republishing articles page for more information.
---