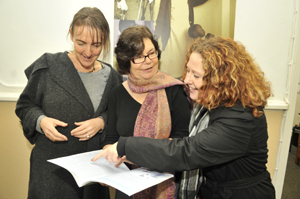 Child watch: (From left) Lori Lake, Prof Shirley Pendlebury and Charmaine Smith, co-editors of the 2008/9 South African Child Gauge, their fourth such publication.
This week UCT's Children's Institute launches the 2008/2009 South African Child Gauge. Themed essays in the issue focus on children's right to basic education. In a twist of fate, President Zuma announced the establishment of two ministries of education just as the Child Gauge was about to go to press.
Some very small additions acknowledged this change, said co-editor Professor Shirley Pendlebury.
She said that while it is too soon to tell how effective the new structures will be in addressing critical issues in South Africa's education system, the creation of a department of basic education suggests government is cognisant - and indeed proactive - about a number of concerns highlighted in this year's Child Gauge.
The publication is considered by many academics and policymakers to be an annual snapshot of the situation of South Africa's children.
The latest issue contains three standard features: key legislative developments affecting children; 'meaningful access to basic education', a collection of nine themed essays that tease out the elements of 'meaningful'; and the hard numbers - sets of key indicators on children's socio-economic rights.
Though South Africa's school enrolment figures for grades R to 9 look healthy (96%), there's a sharp decline for grades 10 to12 (86%). There are 408 000 children who don't attend school.
National literacy and numeracy tests show poor ratings in grade 3 and grade 6.
But it's meaningful access that still hamstrings results. Overall, in South African schools, the link between access and success is much weaker than in less-resourced schools in Southern Africa.
"In countries like South Africa, access to schools is more elusive in concept and in practice than is often assumed in government policy. Cultural, economic and health factors all play a major role in whether children attend and remain at school," says Pendlebury.
"Children from middle-class, literate families are much more successful in accessing formal knowledge than children whose parents are illiterate ... able-bodied children have better access to educational facilities than those with physical disability."
South Africa is still the only country in Africa that produces an annual evaluation of the situation of its children.
---
This work is licensed under a Creative Commons Attribution-NoDerivatives 4.0 International License.
Please view the republishing articles page for more information.
---