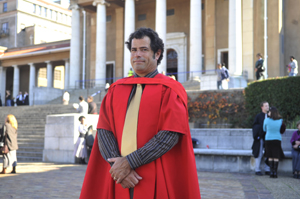 Dr Bill Tucker, promoting access to digital communication systems.
For Bill Tucker, access to digital communication systems need not be held back by disability, computer illiteracy or even isolation and the lack of electricity.
Since 2003 Tucker has dedicated his PhD research to working on overcoming these obstacles, at Bastion for the Deaf, a deprived deaf community in Newlands, Cape Town, and between a rural hospital and an outlying village clinic in the Eastern Cape.
In the Eastern Cape the aim was to support rural telehealth, which is the delivery of health-related services and information via telecommunication technologies; and in Newlands, to support both deaf-to-deaf and deaf-to-hearing communications.
Using open-source software, Tucker implemented instant message systems in the Eastern Cape that ran over long-range rural networks, which were illegal at the time. He describes it as "kind of like Skype on steroids".
"It's strange that in a rural village where there is no electricity and no running water, we can provide wi-fi access to the internet so easily by running everything on 12-volt bakkie batteries," says Tucker. "We used both solar panels and unreliable mains to charge the batteries, and at one point the rural wireless network ran without failure for more than two years."
Implementing digital communications in the deaf community presented a new set of obstacles.
"Many deaf people in this community use SMS, so we told them that they could send 3 000 MXit messages for the cost of one SMS," explains Tucker. "Five years later, there were less than 10 deaf MXit users in a community of about 2 000. Why? They had heard, probably from some newspaper targeted at the uninformed, that MXit is addictive, like a drug, and is used to disseminate pornography. So social misconceptions, combined with poor numeracy, prevented them from using a cost-effective service. Instead they pay for SMS, and for those horrible newspapers!"
Using text-to-speech and speech recognition software, Tucker set up text relay bridges for the hearing to communicate by voice, and the deaf to communicate by text, on a variety of devices.
Technically, the systems were a resounding success.
"The problem in both field studies was that the users said they loved our stuff but actually didn't use it! The reasons for poor adoption were more social than technical. But they did adopt internet access successfully, so our prototype failures had positive side-effects. So we failed, but we didn't!"
Both projects are continuing, with communities now paying for and even installing the systems.
So where to from here?
"I want to start working with kids, and adapting education programmes like the international computer driver's licence for deaf and rural users. Yeah, there's plenty to do. But now, I just want to sleep!"
---
This work is licensed under a Creative Commons Attribution-NoDerivatives 4.0 International License.
Please view the republishing articles page for more information.
---