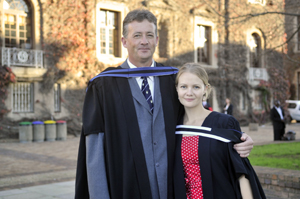 Twosome: Campbell Lyons, head of public relations at UCT, capped his sister, Rosemary Vickerman, on 12 June. Vickerman received a Master of Social Science in South African and Comparative Politics.
As head of public relations at UCT, Campbell Lyons has always been busy during graduation ceremonies, taking care of VIPs and honorary graduates, among others.
But last Friday's late ceremony was extra special as, in addition to his normal duties, Lyons CAP his sister, Rosemary Vickerman, who obtained her master's in political studies.
"I had to take care of all I had to do on the day and joined the procession right at the last moment, just before the start of the ceremony," he explains.
It was an emotional moment that will be one of the highlights of the duo's lives.
Since early childhood, the two have been very close, and Lyons believes her graduation signalled "the end of an era for us".
"I'm very proud of Rose's achievement," said Lyons. "To me, she is just the best."
Vickerman said they were so close that Lyons had introduced her to philosophy, his academic background, when she was just 12 years old.
Like a number of youngsters, she went through a "trial and error" period, trying to settle on a career path before enrolling at UCT.
For her master's, she looked at how and why the Inkatha Freedom Party was so successful during the apartheid years, and why in the country's democratic context thus far, it appears to be in decline.
---
This work is licensed under a Creative Commons Attribution-NoDerivatives 4.0 International License.
Please view the republishing articles page for more information.
---