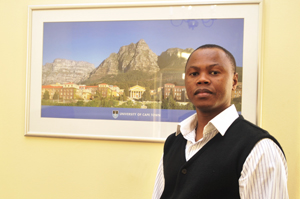 Tsiliso Tamasane's study of AIDS orphans in the Kopanong municipality suggests that orphaned children are better off than their non-orphaned counterparts.
A study of some 5 254 households in one of the poorest municipal areas in the Free State suggests that, contrary to existing literature, AIDS orphans who are cared for by their grandparents may very well be better off than their non-orphaned counterparts.
Tsiliso Tamasane, who after Friday's graduation holds a PhD in sociology, conducted a census-type study of all the townships in the nine towns that make up Kopanong Municipality.
Tamasane, a postdoctoral fellow in the Child, Youth, Family and Social Development research programme at the Human Sciences Research Council, says he set out to examine the widespread assumption that extended families of AIDS-orphaned children are unable to provide adequate care for them. His research challenges the appropriateness of 'orphanhood' as a screening tool for welfare assistance.
Using household indicators such as gender, age, education and access to grants, coupled with school attendance and meal frequency, Tamasane found that approximately 90% of these orphans were adequately looked after by their relatives, often their grandmothers.
"Homes with grandparents were better off than those without," said Tamasane.
"I chose Kopanong because of its unique qualities," he says. "Here, 40% of people are unemployed, more than a quarter of households have an income of less than R800 per month, workers traditionally migrate to major cities in the Free State and Gauteng and an already high incidence of HIV/AIDS is ever-escalating. Bringing up children is a burden, whoever the carers are. Welfare assistance creates divisions between families who all need support, whether they are caring for orphans or not."
Tamasane's research revealed a surprisingly low uptake of social grants.
"Only 20% of eligible children receive social grants, despite a national uptake of 80% of eligible children. Access to birth certificates is often touted as the main problem, yet more than 80% of eligible children had birth certificates."
The real issue here is poverty, says Tamasane.
"Households with grandparents on old-age grants, whether they were taking care of orphaned children or not, fared significantly better. The introduction of a universal social grant would provide much-needed relief to all poor families; it's a policy that looks not only at the individual's status, but takes into account their home circumstances too.
"State intervention is paramount."
According to Tamasane, there is no mention of HIV/AIDS, orphans, vulnerable people or health in the Kopanong municipality's Integrated Development Plan, outlining a five-year plan for local development.
Tamasane, who grew up in a farming community outside Hobhouse in the eastern Free State, has had his own fair share of adversity.
"I used to walk 10km to school every day," he says. "The school only offered classes up to grade seven."
To many this would signal an end to any formal education, but not for Tamasane. He persevered, cycling 20km to a secondary school in Hobhouse.
His never-say-die attitude paid off. He went on to do a BA at Vista University in Bloemfontein, honours and master's at Stellenbosch University, and ultimately his PhD at UCT.
"Only a few manage it though. But everyone deserves that opportunity.
"I am very attached to my background and my people," he adds. "My goal is to play a meaningful role in influencing, or indeed changing, policy for poor people."
---
This work is licensed under a Creative Commons Attribution-NoDerivatives 4.0 International License.
Please view the republishing articles page for more information.
---