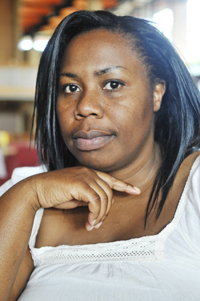 African spin on Western norms: Tendai Nhenga-Chakarisa argues that international laws on child labour need to be Africanised, and then sub-regionalised to make provision for Southern African cultures.
The institutionalised elements of international law on child labour are at odds with Southern African cultures. This is the view of Tendai Nhenga-Chakarisa, a senior researcher in the Children's Rights Programme at the Children's Institute, and a PhD law graduate.
Her thesis, Application of the International Prohibition of Child Labour in an African Context: Lesotho, Zimbabwe and South Africa, juxtaposes Western and African ideas of child rearing, and explains how, from one point of view, a child's working around the home or in the fields can be construed as economic exploitation; but, from another point of view, as beneficial socialisation.
"As children, we used to do chores at home," says Chakarisa.
"I believed that I had received a normal upbringing. It was only during my studies that I realised that some child-raising methods were − under international law − viewed as detrimental."
Being Zimbabwean-born and having studied at the National University of Lesotho and UCT, Chakarisa says that these countries have similar cultures, languages and child-rearing methods.
"The anthropological writings from these countries on this topic were easy to compare," she adds. "And there is a definite discord between international human rights instruments and these cultures."
Is it due to the moral failings of African society, or is it that in these cultures, the concept of 'child labour' does not exist? she asks.
"Some of these African languages do not even have the vernacular equivalent of 'child labour', and where they do, it doesn't have a negative connotation," she explains.
Chakarisa does not dispute that these international measures are in place to prevent exploitative child labour. Her primary concern is, rather, that these laws are based on Western norms, and show little regard for African custom.
"At present, one law applies to all. Developing states seldom had much say in the process of drafting the human rights conventions, and then, all too often, they have had only a nominal commitment to implementation.
What is necessary here, she argues, is the sub-regionalisation of international law.
She suggests that member states of the Southern African Development Community play a leading role in doing this, so that there can be an understanding of what people at grassroots think; giving people a sense of ownership, and moral motivation to implement these laws.
---
This work is licensed under a Creative Commons Attribution-NoDerivatives 4.0 International License.
Please view the republishing articles page for more information.
---