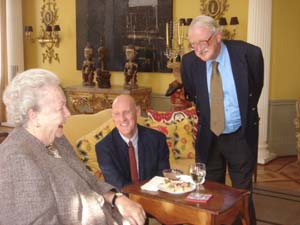 Honoured: Bridget Oppenheimer presented the Harry Oppenheimer Fellowship Award to Dist Prof Philippe-Joseph Salazar (middle). Prof Wieland Gevers (right), secretary-general of the Academy of Science, delivered the citation.
Distinguished Professor Philippe-Joseph Salazar has won the prestigious Harry Oppenheimer Fellowship Award (2008), only the third UCT scholar to do so after Professors Igor Barashenkov and Frank Brombacher were named recipients in 2004.
The award will allow him to pursue his research interests in the US.
Salazar is a Life Fellow of the university, and is director of the Centre of Rhetoric Studies.
The awards, initiated by the Harry Oppenheimer Trust in 2001, are aimed at supporting individuals who make significant contributions to South African public life.
"My main concern, as I contemplated applying, was that the trust may take a popular view on social relevance," said Salazar. "I was mistaken. In keeping with Harry Oppenheimer's humanism, the trust has an elevated understanding of the rapport between scholarship and engagement."
The accolade comes on the heels of an A1 rating from the National Research Foundation.
"Taken together, it means that my field of scholarship - rhetoric - has gained the sort of high recognition one is otherwise led to expect from traditional disciplines."
His work is particularly relevant to South Africa's developing democracy.
"The award will enable me to begin research, while in residence at George Washington University, toward a book primarily focused on rare documents concerning George Washington - as a template for understanding what I call presidential ethics.
"I would think presidential ethics has local relevance, in the same way that the book I have just completed, Hypertalk: Political technologies, will, hopefully, be of relevance to French presidential rhetoric."
Salazar dedicated the award to his graduate students who "although few in numbers, have made the bold choice of studying rhetoric, have brilliant careers in business and public service, and have shown how a complex and rare discipline, by and large ignored by South African academia, can yield the highest returns"
.
---
This work is licensed under a Creative Commons Attribution-NoDerivatives 4.0 International License.
Please view the republishing articles page for more information.
---