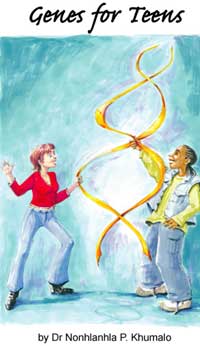 UCT makes a strong showing at this year's Cape Town Book Fair, running from 13 to 16 June, with three separate displays.
These include books published by UCT through Juta, the launch of this year's annual Child Gauge report, and the debut of a unique exhibit for UCT authors who have published their work independently.
This new display is the brainchild of Dr Nonhlanhla Khumalo of UCT's Division of Dermatology, who recently self-published Genes for Teens, a light-hearted, illustrated manual of all things genetic, including sex, acne and smelly underarms.
"The motivation behind the stand was to generate publicity for books that have received little or no marketing," says stand co-ordinator Professor Anusuya Chinsamy-Turan of UCT's Zoology Department, and author of the children's book Famous Dinosaurs of Africa. "The response to our invite was fantastic. Twenty three publications, covering a wide range of subjects from poetry to research work for NGO's, will be on display."
The exhibition will also include 12 'meet the author' presentations.
Other highlights include the technical manual Office XP for Business by Jean-Paul Van Belle & Lisa Seymour, which is also freely available for download under the Creative Commons license, and Starwise (A Book for Children) by astronomer Tony Fairall, who died before his work was published.
Another Book Fair feature is the South African Child Gauge 2008/2009: Meaningful access to basic education, the latest annual publication on children's rights, published by UCT's Children's Institute. The only publication of its kind in the country, and an invaluable source in its field, this year's Gauge includes demographic statistics and essays on the state of access to education.
---
This work is licensed under a Creative Commons Attribution-NoDerivatives 4.0 International License.
Please view the republishing articles page for more information.
---