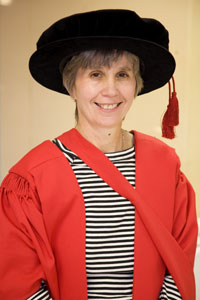 There is often a "vicious cycle" of power and distrust between patients and health care providers in Africa, often fed by another problematic cycle between employers and providers.
So said Professor Lucy Gilson (left) in her inaugural lecture, Providers, Patients and Power: Why trusting relationships matter to health systems, on 27 May.
There is a general sense of "powerlessness" among the role-players in the health sector, said Gilson, whose findings are based on more than 20 years' work in research and academic environments in Tanzania and South Africa. Gilson noted that patients often experience health facilities as a place of powerlessness and vulnerability, of risk - not of healing.
"At times of sickness we're all particularly vulnerable, but patients often feel themselves subject to the whims of 'provider power'," she said. "Not surprisingly, such experiences don't inspire patient trust in the provider."
Gilson said her research showed that most nurses distrusted their employer because they felt let down, uncared for and powerless to do anything. However, Gilson added, local managers sometimes interrupt the vicious cycle between employers and providers, mediating between the two, and even encouraging a cycle of trusting interaction.
"This, in turn, may feed forward into more positive engagements between provider and patient," she explained.
Gilson cited the example of four primary health care facilities, two of them judged as better-performing and others less-performing. Although there was a little employer trust across these facilities, she found that the facility managers in the two better-performing clinics were widely trusted by staff, in contrast to the managers in the less-performing ones.
"Although these two facilities were also better resourced, staff highlighted their manager and her behaviour as underpinning their motivation and good working practices."
Gilson emphasised that managers were important because they set the tone of the institution, where role models demonstrated values that motivated staff to follow suit.
"But managers must be backed by frameworks and structures that allow decision-making autonomy and ensure accountability."
Gilson also proposed, among others, for concerted efforts to manage policy implementation better, and to engage communities and civil society organisations.
---
This work is licensed under a Creative Commons Attribution-NoDerivatives 4.0 International License.
Please view the republishing articles page for more information.
---