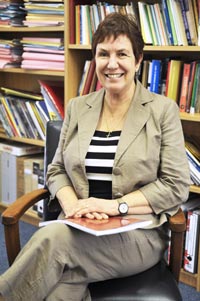 Spreading the knowledge: Associate Professor Mary Nassimbeni contributes to making education accessible for all.
A recent school infrastructure audit conducted in Khayelitsha by Equal Education found that only three out of 54 schools in that area have functioning school libraries.
Thankfully, the Library and Information Services Transformation Charter, commissioned by the Minister of Arts and Culture, and featuring contributions by Associate Professor Mary Nassimbeni of UCT's Centre for Information Literacy, is set to mark a new era of expansion, development and transformation of library services (LIS) in South Africa.
The team set out to define the challenges facing the LIS sector and provide solutions for change, ultimately building an informed and reading nation. The charter's fifth draft, which includes an eight-point transformation programme, was recently approved by the Minister of Arts and Culture. It will now be presented to the Members of the Executive Committee responsible for LIS, as well as to portfolio committees in Parliament.
The team responsible for drafting the charter also included Associate Professor Genevieve Hart of the University of the Western Cape and Professor Archie Dick of the University of Pretoria, both of whom gained their PhD in LIS at UCT. The team was chaired by Professor Muxe Nkondo, chair of the Board of the National Library of South Africa.
"This report is an important milestone for South African libraries," says Nassimbeni. "The Centre for Information Literacy has already started to incorporate the ideas and findings into its teachings and research."
---
This work is licensed under a Creative Commons Attribution-NoDerivatives 4.0 International License.
Please view the republishing articles page for more information.
---