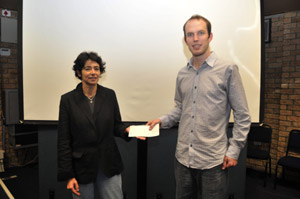 Dr Elisa Galgut of the philosophy department handed the award to Paul Smit who received the Keswick Prize for Lucidity on 7 May.
Philosophy graduate Paul Smit's love of the Scottish philosopher, economist and historian David Hume, and his ability to write a clear essay on his work, has won him the 2008 Keswick Prize for Lucidity.
"I like David Hume's writing and enjoyed doing an essay on him," Smit explained.
In his 4 000-word essay, Of Hume and Tragedy: The controversies of conversion and other tales, Smit explains that critics of Hume had misinterpreted him.
"One of my aims was to show that, contrary to the claims of some of Hume's critics, his theory of tragic pleasure is perfectly consistent with his earlier writings in The Treatise."
"Hume was concerned with making sense of the paradox of emotions that we as the audience feel when experiencing tragedies such as Othello. On the one hand, we feel saddened by the plight of the characters, yet, on the other hand, we get much enjoyment out of the whole experience."
As Smit explains, Hume's solution is one of conversion; the 'force' of the positive experience overpowers the negative emotions and, in a way, converts the force of the negative emotions, making one's pleasure even greater.

The Keswick Prize is sponsored by Sir Chips Keswick, former chairman of Hambros Bank Limited in the UK, and is awarded to a third- or fourth-year student in any technical field, for writing the most lucid essay. It aims to encourage the use of clear, jargon-free prose in writing.

Also at the event, class medals were presented to the top students in the Philosophy Department's 2008 undergraduate courses.
---
This work is licensed under a Creative Commons Attribution-NoDerivatives 4.0 International License.
Please view the republishing articles page for more information.
---