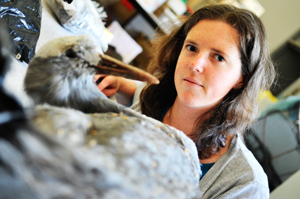 Saving an icon: Jessica Shaw's master's thesis focuses on the threat of power lines to blue cranes.
The South African national bird, the blue crane (anthropoides paradiseus), is under threat from the most unlikely of perils. Every year, hundreds of blue cranes, as well as other birds, are killed by flying into unmarked power lines. The problem is affecting the population numbers of this bird, which is currently on the International Union for Conservation of Nature's Red List of Threatened Species.
This was the focus of ornithologist Jessica Shaw's master's thesis and her presentation at this year's Percy Fitzpatrick AGM Seminars. Shaw spent five months surveying the power lines in the Caledon and Bredasdorp areas of the Western Cape's Overberg, which is home to over half the global blue crane population.
The survey found that 54% of all birds killed by power line collisions were blue cranes. This amounted to a casualty rate of 10% of the total blue crane population in the area every year.
Surprisingly, the birds aren't killed by electrocution, but rather by the impact with the lines.
"The cranes are especially susceptible to collisions because they are heavy birds, so they can't avoid unexpected obstacles at the last minute," explains Shaw. "They also tend to fly at dusk when the light is bad, and they fly in flocks. This means they might be flying behind other birds and either do not see the line, or lack the space to move out of the way."
As well as blue cranes, Shaw also found the carcasses of at least 19 other bird species, five of which are of concern to conservationists.
"The number of power lines is increasing all the time," says Shaw, "and if something isn't done the problem is only going to get worse."
But what solutions are available?
Power lines could be buried underground, or routed away from high-collision areas, but the most feasible option is to mark the lines to make their presence more obvious to the birds, says Shaw.
"Segments of line are only marked when they are shown to be a threat. We need to approach the problem more proactively and mark bigger sections of lines before mortality rates prove them to be dangerous."
---
This work is licensed under a Creative Commons Attribution-NoDerivatives 4.0 International License.
Please view the republishing articles page for more information.
---