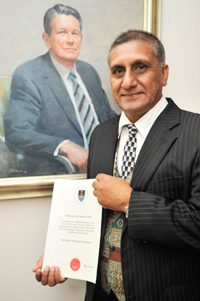 Collective care: Prof Raj Ramesar paid tribute to the team of surgeons and nurses when he accepted the Alan Pifer Award.
Finding the genetic defect that causes colon cancer in two large South African families was enough to prompt Professor Raj Ramesar to consider terminating his sabbatical in Chicago in 1994.
"I knew how much the simple blood test that I subsequently designed would mean to those at risk."
Ramesar, of the Department of Clinical Laboratory Sciences, recently received the prestigious Alan Pifer Award, which recognises his breakthrough research on the disease and particularly how this work contributes to the welfare of South Africa's most disadvantaged communities in the Northern and Western Cape Provinces.
The award is named after the former president of the Carnegie Corporation of New York.
Accepting the award, Ramesar said the honour belonged to the team of surgeons and nurses, now led by Professor Paul Goldberg of the Division of Gastroenterology, who had painstakingly furthered this pioneering work.
Singling out Sister Ursula Algar as an example, Ramesar said: "She seamlessly steps between surgical nursing and field operations in genetics, tracing families and ensuring that those identified, through our laboratory, to be at high risk, have access to clinical surveillance."
He also dedicated the award to the families and communities affected by colon cancer, particularly those the team has worked with in rural areas.
"Over the years these individuals engaged with a new kind of medicine, which has the power to predict who will fall ill and who won't.
"It has taken a great number of years, continuity of contact, and a dedicated programme of being informative that has worked. And there is much more to be done, even in this community."
Ramesar said he remained concerned that the value of genetics as a tool to reduce morbidity and mortality - and its importance in fields such as agriculture and biotechnology - could "pass the continent by".
He said UCT had been identified as a "peg in the ground" in order to link up with other countries and to grow research culture and enterprise in an "unprecedented way".
"It is important for this not to be left to a single researcher, but to be seen as an institutional imperative. It's important for UCT to jump at this challenge and opportunity or it will be taken up by colleagues down the road."
---
This work is licensed under a Creative Commons Attribution-NoDerivatives 4.0 International License.
Please view the republishing articles page for more information.
---