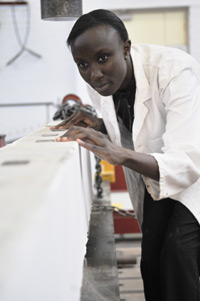 Rachel Muigai, civil engineering researcher at UCT's Faculty of Engineering & the Built Environment (EBE) is the recipient of a R300 000 scholarship from the Cement and Concrete Institute.
The institute's Sustainable Concrete Research Fellowship for 2008 was awarded to Muigai for her PhD proposal on research into the contribution of recycled materials on the environmental performance of concrete.
Muigai explains that concrete rubble from demolitions can be used as the aggregate in new concrete mixtures. Concrete consists of combinations of cement, aggregates (coarse and fine) and water.
Born in Nairobi, Kenya, Muigai graduated from the University of Nairobi's Department of Civil Engineering before coming to UCT for its programmes on concrete durability. She earned her master's with her thesis, titled Probabilistic Modelling for Durability Design of Reinforced Concrete Structures in 2008.
"This fellowship will definitely assist me in achieving my career goals," says Muigai. "When I've completed my PhD I'd like to use my experience in concrete sustainability in a research institution."
The fellowship, awarded to Muigai to celebrate 70 years of operation in South Africa, is the third to be awarded by the institute. The first was for an investigation of shrinking aggregates in the 1960s, and the other for research into durability in 1989. Both Fellowships resulted in the generation of substantial new knowledge and helped solve practical problems in the concrete industry by producing high-level solutions.
---
This work is licensed under a Creative Commons Attribution-NoDerivatives 4.0 International License.
Please view the republishing articles page for more information.
---