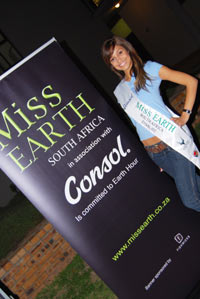 UCT student and Miss Earth SA finalist Chanel Grantham organised an Earth Hour event at Graça Machel Residence on 28 March, featuring give-aways and live music.
Performing at the event, which was attended by hundreds of students, was local afro-rock act jacSharp, Bang Bang, as well as UCT Radio DJs Al Postman and Pags, who were the MCs for the evening.
Grantham says headline act jacSharp was the perfect complement to Earth Hour. "This band has an amazing commitment to the environment with their go green initiatives, including their new album, which is being packaged in recycled material."
The university's Green Campus Initiative squad came dressed in their green overalls, and Students' Representative Council members also attended to show their support.
"The atmosphere was great," says Grantham. "Students brought blankets and cushions for an evening under the stars. With good music and a good crowd the scene was set for students uniting together for a great cause and having fun. The bands really got the crowds going with a massive electric slide at one stage - and those who didn't know the moves to the electric slide were forced to learn fast!"
Giveaways included Earth Hour T-shirts, glowsticks and wristbands.
"I'm passionate about making valuable contributions to our Earth," says Grantham. "Putting this event together was a challenge and I gained a huge amount of strong experience from it. My key learning throughout this initiative is that if your heart is in the right place, you can make anything possible!"
For more information go to the Miss Earth SA website.
---
This work is licensed under a Creative Commons Attribution-NoDerivatives 4.0 International License.
Please view the republishing articles page for more information.
---