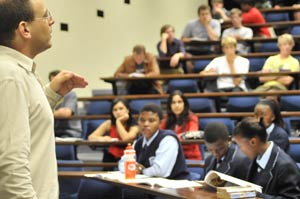 Walking the talk: Dr Greg Fried gives a lecture to high school learners in the Foundations in Philosophy course.
Hundreds of Western Cape learners honed their powers of logic when they gathered at UCT to talk, read and write philosophy.
For three nights this month, more than 300 Grades 10, 11 and 12 students - a more than 50% increase on last year - from 19 schools in the Cape metropolitan region participated in the Foundations in Philosophy course offered by the Department of Philosophy.
Dr Greg Fried started the course three years ago. He said it has a different theme each year, something both important to philosophy and as a subject of interest to the students.
In 2008 the theme was freedom, this year it is religion. In discussions on religion, the young philosophers were introduced to the writings of Plato, Anselm, and Pascal.
The presenters this year were the department's Professor David Benatar, Dr Elisa Galgut, and Fried himself.
After the initial 30-minute talk, the learners broke into discussion groups (with UCT students acting as tutors), after which there was a short Q & A session. Learners also received a reader during the course, and were asked to write a short paper in order to complete the programme.
"So they hear philosophy, they talk philosophy, they read philosophy, and they write philosophy," said Fried.
"The department is enthusiastic about Foundations in Philosophy. I'm very happy to be involved in the programme because, when I was at school, I would have loved this kind of opportunity to think and talk deeply about a philosophical topic."
Fried said the department was grateful to the Western Cape Education Department for distributing invitations throughout the metropolitan region.
---
This work is licensed under a Creative Commons Attribution-NoDerivatives 4.0 International License.
Please view the republishing articles page for more information.
---