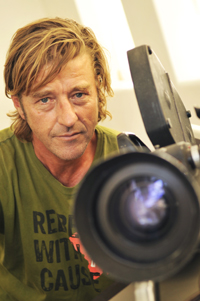 Craig Matthew, documentary filmmaker and research associate in the Centre for Curating the Archive at UCT's Michaelis School of Fine Art, is one of seven directors around the world to receive an International Trailblazer Award. The Trailblazer was awarded at MIPDOC, the world's largest international documentary showcase, held in Cannes, France, from 28 to 29 March.
How did you come to win the Trailblazer?
I knew nothing about the award until I was nominated. One nominee is accepted from each continent, and the organisers of Encounters, the annual South African international documentary festival, chose me.
The award is given in recognition of my work as a whole but also for the new interactive projects, like the John Vorster Square multimedia DVD and my future plans for this new direction.
What does interactivity add to the subject?
We present our subject as an immersive 3D experience using Macromedia Director. In Between Life and Death: Stories from John Vorster Square, we enlisted 15 former detainees. We put them back in their cells and photographed them panoramically. The result is a fully immersive experience that allows viewers to go inside the prison and walk in the prisoners' shoes. Clickable hotspots are embedded into the virtual reality panoramas, which bring up historical material like notebooks, photographs, voice recordings and police documents.
Where do you plan to take this platform?
We've now set up an archival digitising project. Our aim is to create a digital archive of all other archives, and to build an interactive archival platform that can also be made available online in a lower resolution. We hope to have the interactive platform ready by the end of 2009, and that's when we'll start populating it with content.
When will this project be complete?
Never. The idea is to kick-start the archive and let others continue building on it.
---
This work is licensed under a Creative Commons Attribution-NoDerivatives 4.0 International License.
Please view the republishing articles page for more information.
---