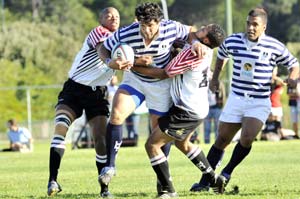 Onward march: Pieter Engelbrecht tries to break through North West University's Lolo Waka and Wenstley Scott, with Therlow Pietersen in support. Alas, it was one of many of the Ikey Tigers' first-half attacks that didn't lead to points.
Failure to take full advantage of a bullying Southeaster at their backs in the first half in their Varsity Cup semi-final against North West University on 23 March cost UCT Ikey Tigers a place in the final.
UCT hardly let Pukke out of their half of the field, but scored just 12 points - two tries - in the opening 40 minutes. Too many handling errors - sometimes within a whiff of the goal line - and two missed penalties and a conversion didn't help UCT's cause, and the side went into the break with a slender - given the conditions they had to play with - 12-0 lead.
As expected, UCT was pinned down in their own half soon after the restart. Pukke chipped away at UCT's lead with two penalties, reducing the deficit to six points at 12-6.
That be said, the Tigers played the better rugby of the two teams in the second half, and jacked-up ball management saw them touch down after 18 minutes to stretch their lead to a more comfortable 17-6.
Pukke surged back, though, with a penalty and a goal - did the referee miss a knock-on and a forward pass? - to take the score to 17-16. Another penalty with just three minutes on the clock gave Pukke the lead for the first time at 17-19.
North West then withstood a late battery of UCT attacks to see them to the final, where they will meet Stellenbosch University in Stellenbosch on Monday, 30 March.
"We can't moan about the second-half performance, but our errors cost us," said assistant coach Robbie Fleck after the match. "I feel bad for the guys that they couldn't pull off a second final in a row."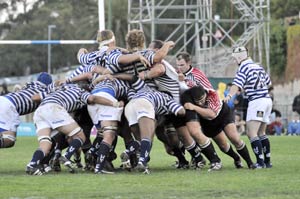 Upwards: Less-than-solid scrimmaging cost Ikey Tigers plenty of possession and points.
---
This work is licensed under a Creative Commons Attribution-NoDerivatives 4.0 International License.
Please view the republishing articles page for more information.
---