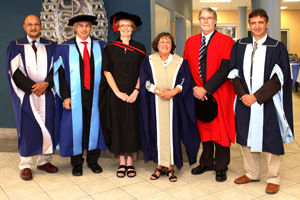 Welcome: Prof Karen Barnes, (third from left) at her inaugural lecture with Acting DVC Prof Daya Reddy, VC Dr Max Price, health sciences dean Prof Marian Jacobs, DVC Prof Dannie Visser, and head of the Division of Clinical Pharmacology, Prof Gary Maartens.
It's tragic that malaria exacts such a heavy toll when it is readily preventable through long-lasting insecticide-treated bed nets and, in uncomplicated cases, three-day treatments, said Professor Karen Barnes in her recent inaugural lecture.
"When compared to other infectious diseases, such as TB or HIV/AIDS, malaria has to be seen as 'low hanging fruit'," she said.
In her presentation she said 'dramatic reductions' in the burden of malaria could be achieved with currently available tools, specifically in three areas: the deployment of effective treatment policies; ensuring access to effective treatment; and ensuring that effective treatment policies are sustained.
But no matter how effective a national programme of prevention, there is no import control on malaria parasites.
"This means that those committed to malaria control need to think and work together at a regional level."
The Lubombo Spatial Development Initiative (LSDI), a partnership between the governments of Mozambique, Swaziland and South Africa, has been a pioneer in this regard. The LSDI stimulates economic development and focuses on infrastructure development and malaria control.
Since the initiative began, the number of children in the Maputo Province in southern Mozambique infected with life-threatening Plasmodium falciparum has decreased from over 60% of the child population to less than 10%.
Of the 2.2 billion people living at risk of malaria, 5.5 million are infected with Plasmodium falciparum each year, and over one million die.
Barnes is concerned by the manufacture and distribution of fake artemisinins (artemisinins are used widely for treating malaria), drugs that contain no sub-therapeutic amounts of artemisinins and that are not easily distinguishable from the real thing.
These are being distributed in Africa and are prevalent across Southeast Asia. In Laos, for example, 80% of artemisinins are fake.
"For a disease as rapidly life-threatening as malaria, this practice is akin to manslaughter."
The scope of the problem in Africa was less evident, though counterfeits had been found from Kenya to Cameroon.
"We have no idea of the scale of this problem, and our regulatory authorities are nowhere near having the capacity to curtail this criminal business."
Though there are challenges in getting tablets to those with uncomplicated malaria, it is more problematic getting medication to patients whose disease is so severe they are unable to swallow pills.
With this in mind, the World Health Organisation has developed a rectal formulation of artesunate to be used as an initial treatment near to home, before referral to a hospital. Rectal artesunate clears malaria parasites quicker than the standard care of African hospitals, injectable quinine.
Barnes said the fight against drug resistance, a major challenge in the treatment of malaria, had been given a leg-up through the creation of the Worldwide Antimalarial Resistance Network. (WWARN).
WWARN exploits advances in information technology to allow researchers from across the globe to clean, analyse and report their data on antimalarial resistance.
Even better, this network has identified clinical pharmacology as an essential component of monitoring for antimalarial drug resistance.
" ... treatment failure cannot be accurately attributed to resistance until the widespread problem of sub-therapeutic drug levels has been excluded.
"Furthermore, clinical pharmacology can be used to identify and address each of the four major drivers of antimicrobial resistance: monotherapy, poor-quality drugs, poor adherence, and sub-optimal dosing regimens."
---
This work is licensed under a Creative Commons Attribution-NoDerivatives 4.0 International License.
Please view the republishing articles page for more information.
---