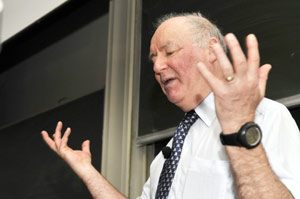 Astronomer and cosmologist Professor Malcolm Longair delivered a lecture at UCT on 24 February.
The inflationary model of the early Universe is surprisingly successful in explaining its origins, but it does produce some problems, said eminent astronomer and cosmologist Professor Malcolm Longair.
In his lecture, Hot News from the Big Bang: Why inflation is a good thing, at UCT on 24 February, the University of Cambridge scholar said astronomers and cosmologists agree that the model is a great achievement, but there is still much more work to be done before a completely satisfactory theory of the Universe is found.
Longair, who was a guest lecturer of the National Astrophysics and Space Science Programme (NASSP), said they are using the Universe as a laboratory to study fundamental physics. "For instance, we believe that the universe is dominated by a strange form of matter called Dark Energy, which has properties completely unlike that of ordinary matter. The challenge is to explain what Dark Energy is".
This is among the most important problems in fundamental physics today.
During an inspiring lecture, he told students that it was up to the next generation of scientists, through projects such as the Square Kilometre Array, to contribute to finding a solution to this and other astrophysical puzzles.
---
This work is licensed under a Creative Commons Attribution-NoDerivatives 4.0 International License.
Please view the republishing articles page for more information.
---