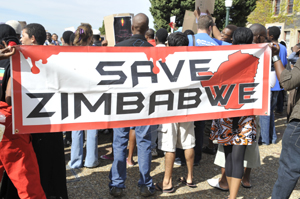 Marching on: Students at a UCT gathering last year.
The following opinion piece was penned by Vice-Chancellor Dr Max Price and Prof Marian Jacobs, dean of the Faculty of Health Sciences, and appeared in the Sunday Argus of 8 February.
Zimbabwe is facing unprecedented levels of economic and political turmoil, resulting in intolerable human suffering, disease and death. We as South Africans cannot sit by and watch while this massive disaster unfolds. We all need to act together to assist in alleviating the humanitarian crisis, apply pressure on our politicians to monitor the fair implementation of the joint government agreement for a peaceful transition to a new political order and, where possible, assist those Zimbabweans who have sought refuge within our borders.
The impact of the crisis in Zimbabwe is being felt across Africa, and particularly in South Africa; from the steady stream of refugees; to additional strain on an overstretched health service as a result of cholera-infected people coming across the border for treatment, following the complete collapse of the Zimbabwean healthcare structures; to impassioned pleas from students to be allowed to continue their studies in South Africa as many of their educational institutions are not functioning at all.
The University of Cape Town strives to be an Afropolitan institution, with its roots in South Africa, but its branches spreading across the SADC region and Africa as a whole. In this African institution of higher learning - where we teach young adults about human rights, social responsiveness and accountability - we condemn those responsible for the human rights catastrophe that is playing out in Zimbabwe.
Physicians for Human Rights (PHR), an international health non-governmental organisation, headquartered in Cambridge, Massachusetts, has presented a report with hard evidence of the devastating situation in Zimbabwe. It was drawn up by independent investigators who visited several provinces in Zimbabwe in December 2008 and states that the government of Zimbabwe has effectively presided over "the dramatic reversal of its population's access to food, clean water, basic sanitation and healthcare".
It is a shocking story of the destruction of a country and its people. The report contains evidence of the horror stories heard for some years now. It records the traumatic experiences of sick, injured and dying human beings - many of whom will lose their lives as a result of treatable medical conditions.
Mothers, fathers and children are watching one another suffer and die because the system has failed. Medical practitioners face dying patients without access to water, electricity or basic facilities like toilets. Equipment is desperately lacking and the most basic services are no longer available.
The very system that exists to protect the basic human rights of every citizen has collapsed and its failure is undoubtedly the responsibility of President Mugabe and his government. It is untenable that they have allowed this. It is even more disgraceful that evidence suggests that this collapse is directly linked to their misguided, selfish actions to remain in power.
The report recommends that President Robert Mugabe should face the International Criminal Court. They argue that he is committing a crime against humanity - the results of which can be seen in thousands of deaths in that country following the utter collapse of its health service.
International statute allows the UN to intervene politically, through sanctions and even militarily in a country whose government is systematically killing large numbers of its own unarmed, defenceless citizens. The PHR report also recommends that a United Nations-led emergency health response should be enforced in Zimbabwe. It is time for us, the ordinary citizens of South Africa, to call for this to happen.
President Mugabe must be pressured into allowing international health NGOs immediate, full and unfettered access, in effect, to take over the running of the health system, particularly in communities facing health crises. These NGOs should be given funding by UN agencies and donor governments to re-establish medicine and equipment supply chains. Further, the UN should employ local health workers who want to work, but have no salaries, no food and no petrol in their cars, or taxi money to get to work; no medicines or surgical equipment to offer patients and no hope that their efforts will be appreciated.
While it is well and good to call on other bodies to take these actions, the university has also has decided to take action. Firstly, we have undertaken to see how we can support the ongoing training of some of the advanced medical students in Zimbabwe where universities have collapsed. We call on the South African government to facilitate the issuing and renewal of study visas. We have made various concessions to assist Zimbabwean students who are struggling to release their available funds from Zimbabwe to enable them to register for study at UCT. In addition to making UCT funds available to assist these students, we are implementing a range of other practical ways to assist Zimbabwean students who face particularly difficult situations while studying at UCT.
Finally, we will mobilise staff and students at UCT to support humanitarian efforts and do what they can to assist those in need.
---
This work is licensed under a Creative Commons Attribution-NoDerivatives 4.0 International License.
Please view the republishing articles page for more information.
---