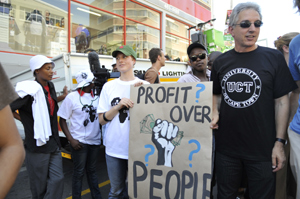 Marching orders: Vice-Chancellor Dr Max Price (right) was among hundreds of Social Justice Coalition marchers who protested outside Parliament on Friday.
Friday 6 February saw the opening of Parliament, and Vice-Chancellor Dr Max Price joined hundreds of Social Justice Coalition (SJC) supporters in a march to Parliament to condemn corruption and demand that South Africa's leaders be held accountable for their actions.
"We need a government that is open to the type of scrutiny that will ensure that political and other leaders are called to book immediately if there is proof of impropriety," he said in a communiqué to staff and students.
"If anyone among us is not called to account for their actions, the social and moral fibre of society is endangered."
He also called for an independent prosecutorial and judicial system and a free press.
"It is our responsibility as citizens to defend the independence of the press and courts, and to hold leaders to account. This is a citizen's responsibility when living in a democracy."
Price said he had been proud to march alongside others who supported the SJC's call to action.
"As a nation and as a university, we have a long and proud tradition of activism and standing against injustice.
"This is what thousands of our compatriots and academic colleagues did during the fight against apartheid, and we need to remember their courage and conviction during these turbulent times of nation-building."
---
This work is licensed under a Creative Commons Attribution-NoDerivatives 4.0 International License.
Please view the republishing articles page for more information.
---