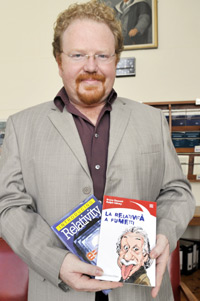 Professor Bruce Bassett becomes quite animated when he talks about Einstein's Theory of Relativity.
Not only is his book Introducing Relativity ranked 17th on the best-seller list on amazon.co.uk for works on the subject, but it's just been translated into Italian by Gianbruno Guerrerio.
Why Italian?
"To be honest, I'm not sure," said the mathematician and astronomer, "but I'm happy that after six years the book is sufficiently popular to warrant translating."
Bassett, who's based in the Department of Mathematics and Applied Mathematics, was first approached by Icon books in 2001, on the back of other science outreach he'd done and really enjoyed.
Einstein's theory of relativity is described as one predicting that time does not flow at a fixed rate: moving clocks appear to tick more slowly relative to their stationary counterparts. But this effect only becomes really significant at very high velocities that approach the speed of light.
Unpacking this for a lay audience is not a particularly easy task. But for Bassett it was an opportunity to share some of the thrall of a subject he loves.
"Conveying the beauty of physics to other people really appeals to some people and I happen to be one of them. On top of this, relativity is such a visual and beautiful theory that it was an exciting opportunity to break new ground in terms of making Einstein's work accessible to a wider audience."
---
This work is licensed under a Creative Commons Attribution-NoDerivatives 4.0 International License.
Please view the republishing articles page for more information.
---