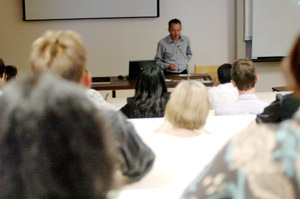 Testing behaviour: Prof Jack van Honk of delivered a keynote talk at the CUBBI symposium on the effects of testosterone
Testosterone is a double edged sword; a factor in violent, anti-social behaviour, but also a contributor to one's success in life.
This was noted by Professor Jack van Honk from the Helmholtz Research Institute at Utrecht University in the Netherlands, at the Cross-University Brain & Behaviour Initiative (CUBBI) symposium at Valkenberg Hospital on 28 November.
Van Honk, one of CUBBI's founding researchers, delivered a keynote talk, titled Neurochemistry and Neuromagery of Hormones in Emotion, in which he outlined the findings of several experiments on the effects of testosterone on the behaviour of females.
His tests show that female subjects under the influence of testosterone are likely to display typical male behaviour. They are more responsive to perceived anger in others, are more likely to take risks and are less likely to display empathy. He also noted that testosterone levels can relate to sexual dysfunction, and there is a link between low prenatal testosterone levels and homosexuality.
But while testosterone can induce aggression and anxiety, it can also be a positive factor in survival.
"Aggression is often seen as a bad thing," notes Van Honk, "but it can also be used as a way to communicate without words. For example, an angry expression on a parent's face can be a form of punishment for their child."
Testosterone is also a factor in the assertive behaviour that an animal displays to express its dominance over others, or that a human would use to be successful in business.
"The evolutionary success of humans is dependant on our ability to decode facial expressions and act upon them appropriately," says van Honk.
---
This work is licensed under a Creative Commons Attribution-NoDerivatives 4.0 International License.
Please view the republishing articles page for more information.
---