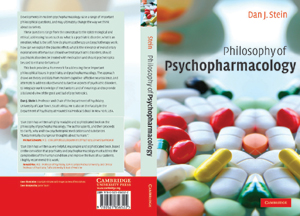 Interface: Prof Dan Stein's book, Philosophy of Pharmacotherapy: Smart Pills, Happy Pills and Pep Pills, is published by Cambridge University Press.
With rapid developments in the field of cosmetic psycho pharmacology, Professor Dan Stein's new book, Philosophy of Pharmacology: Smart Pills, Happy Pills and Pep Pills, published by Cambridge University Press, poses interesting philosophical questions about the implications of developments in neuroscience for our understanding of human beings.
Mental disorders are a leading cause of disability worldwide, and are relatively underdiagnosed and undertreated. At the same time, there have been significant advances in psychopharmacology, and critical questions have been raised about the medicalisation of normal distress. Stein's new work sets out a conceptual framework, pulling in theory and data from modern neuroscience, for examining these issues.
The book emerged from his D Phil thesis in philosophy at the University of Stellenbosch (supervised by Profs Anton van Niekerk and Derek Bolton). In it, he examines questions about the nature of mental disorders, and about their optimal treatment (eg via pharmacotherapy or psychotherapy).
Stein has written the book with clinicians in mind, particularly those with an interest in the conceptual basis of psychiatry. It's also accessible to a lay audience interested in debates about the use of medical enhancements (eg cosmetic surgery), and about questions of cosmetic psychopharmacology (eg the use of stimulants by students for the purposes of studying).
---
This work is licensed under a Creative Commons Attribution-NoDerivatives 4.0 International License.
Please view the republishing articles page for more information.
---